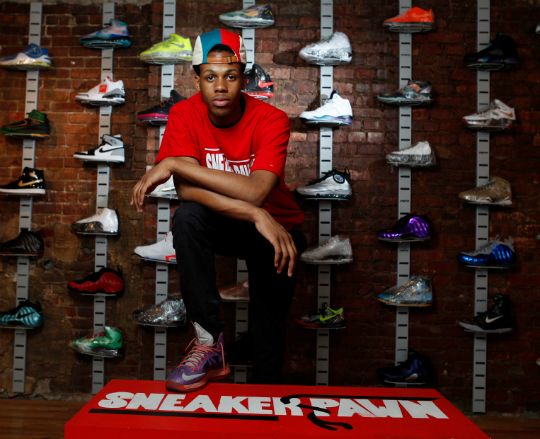 New York 10th grader, Chase "Sneakers" Reed, has managed to turn his obsession into a profitable business. With the help of his father, the young entrepreneur has opened the very first Pawn Shop for Sneakers.
The store offers money for high-end kicks that are no longer in production – whose value is sky-rocketing due to their inaccessibility, thus turning them into the number one currency among teens. And there is unlimited potential in the business. The NY Post reports on the matter that "A lightly worn pair's value can jump exponentially compared to its initial retail price. A pair of Nike Air Yeezys — Kanye West's signature sneakers — are currently selling for from $1,700 to $15,000 on eBay. Originally, they went for $263. Kanye's own purported pair of Yeezys are going for $50,000″. 
The father-son duo developed the business plan when Chase asked to borrow $50, and his father decided to hold onto a pair of his cherished sneakers until repayment. He explains, "Young kids don't have jewelry. They don't have cars. But what they do have is the thousands of dollars worth of sneakers in their house."
As for Chase, it's not just about the money, it's all about the kicks. "I don't look at it like a business. It's what I do. It's what I breathe". The business-savvy teen came up with the $30 000 of seed money for Sneaker Pawn by selling off his own collection, which at its highest point reached 200 pairs! And his work didn't end there. These days, after school and homework, Chase stays up late custom-painting sneakers which go for an average of $200 a pair. 
So why would teens want to pawn their high-end shoes? According to the NY Post there are many reasons. One client reportedly pawned his kicks to pay for his brother's funeral, and two girls came in two get money for prom dresses. But these kids are hardly being taken advantage of. Each pair pawned earns the pawner $100, and costs only $120 to get back. Moreover, if an offer is made on the pair, the pawner is notified and a whopping 80% of the profit will go to them, while the rest goes into the store.
Motivated and happy, 16 year-old Chase has broken ground.