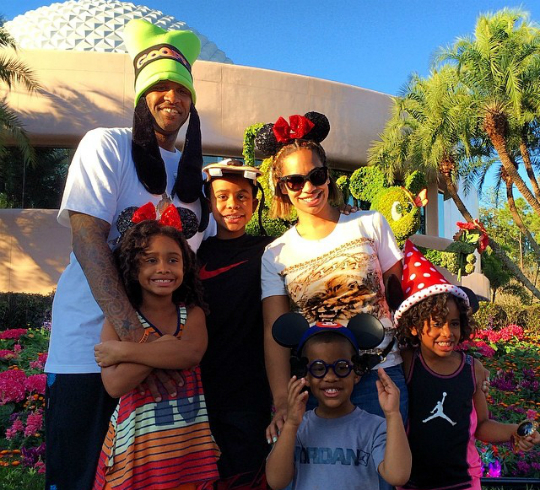 MLB all-star CC Sabathia and his wife Amber are inspirational examples of what it means to give back to your community. The couple have used the privilege of fame and success to reach out to children and teens, providing them with opportunities to stay focused despite all challenges they may encounter. And one day, they hope to see their four children continue their work.
Growing up in Vallejo California, both CC and Amber recall hard-times and the difficulty of being surrounding by negative forces such as crime and drugs. Both consider themselves lucky to have found the strength to avoid going down dark and dangerous paths, but recognize the struggle associated with finding such strength. Through their PitCCh In Foundation they have made it their mission to help many underprivileged children who find themselves in similar circumstances to their own pasts. By giving them otherwise unimaginable opportunities for safe and enriching extracurricular activities, the Sabathias hope to ensure a number of Vallejo teens go on to accomplish great things.
Recalling adolescence, Amber has said that she did her best not to let her family's low-income hinder her ability to engage in productive activities. "We were always on a very tight budget and there was very little money to set aside for structured, extracurricular activities," Amber said. "I knew being active would keep me out of trouble, so I would always look for free activities, scholarships or be the first to sign up for a school activity. It was hard because there were many times when there wasn't anything we could afford. I am grateful for the ones I found, but no child should have to go without enriching opportunities, especially ones that will motivate their dreams."
For CC, having people in his life who kept him on track was the biggest factor in his ability to stay focused. Biggest of all was the influence of his older cousin Demetrius. Amber explained, "As a male in the inner city, it's almost expected to give in to the temptation and peer pressure to do bad things. CC was able to steer clear of falling into that trap because he had several mentors growing up who kept him motivated and focused. His older cousin, Demetrius, was a big influence in his life and helped him to stay out of trouble. CC would say that he was more like a big brother and always looked out for him."
After Demetrius's passing 2 years ago, the Sabathias renovated the Vallejo basketball court the two used to play on as kids. It was their way of honoring his memory.
Meanwhile, PitCCh, which was founded in 2009 allows the Sabathias to be mentors for an entire community of inner-city youth. By giving so much to the youth community, the Sabathias have merged their roles as philanthropists and parents. Family is obviously a key-factor in their mission.
"My purpose in life is to be the best wife, mother, entrepreneur, and philanthropist," Amber said. "Each role I take on becomes part of the greater whole, which must be nurtured. In my role as a philanthropist, I will always be hands-on and work hard to touch as many kids' lives as possible—whether it's one or thousands. One of the best gifts I can give myself is to give back and share with my family." CC similarly stated "No matter what I'm doing in life, whether it's being a father, a husband, or a baseball player, I always want to be the best I can be. To be my best, I must always work hard, never give up and always give back to the community. I hope that inspires young people to do the same."