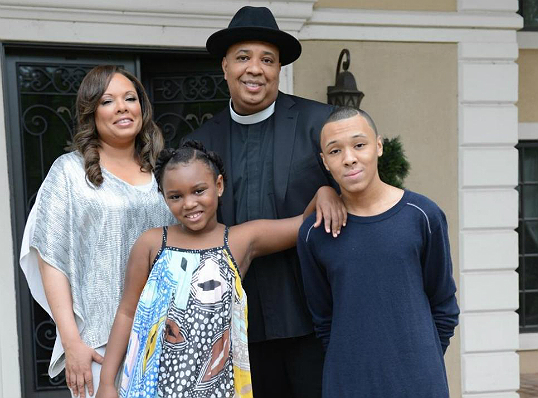 After a five year hiatus, Rev Run of Run DMC and his wife Justine are back on the air.
It's no longer all about Run's House though, this time it's all about the kitchen – Justine's kitchen, to be a little more specific. She may not be a professional chef, like her sister Michelle, but Justine undoubtedly shares the skill-set. "If I ever want something, she knows what to make me. For like a special day, it's going to be lasagna", says Run, her biggest fan.
The couple chatted with NY Daily News recently about family life after Run's House and how their new show will remain focused on family togetherness.
The upcoming reality show Rev Run's Sunday Suppers, is not just about getting back on T.V. Although Run admits he likes that part, he is also looking to bring the family together. With their six children grown, growing, and on the move, the couple have thought this up as a great way to battle empty nest syndrome. "It brings our family closer," Justine adds.
Back in 2005, the family starred in the reality show Run's House for four seasons, allowing viewers to really witness the family grow. The show featured pivotal moments in the lives of Run and Justine, and their children – Vanessa (30), Angela  (26), Jojo (24), Diggy (19), Russy (17), and Miley (6). From learning to drive (Jojo), to starting up a shoeline (Vanessa and Angela); the family shared all with the world. The camera was there through the good, and the bad. The loss of Run and Justine's baby, Victoria, the day of her birth was difficult to say the least, but it resulted in the subsequent adoption of their youngest daughter, Miley. Meanwhile, Diggy and Russy followed in their father's footsteps as they took to recording music in their home studio.
Nowadays, the eldest of the clan are out of the home, Diggy is pursuing a music career and spends a lot of time on the road, and Run and Justine are even new grandparents! "We have a strict rule, they can't call me Grandma, only Gm (pronounced 'gem')!" says Justine. Still, the emptiness of the house began to weigh heavily on the couple. Run admits, "I was moping around the house hoping to pull people in to cook us some meals."
But not to worry, mom and dad's brilliant new way of bringing everyone together will mean plenty of family time. The matriarch may dominate in the kitchen alongside her steak-loving hubby, but the show will provide an opportunity for the family to take turns, share recipes, and share moments. The menu will include items such as Angela's veggie tacos, and even a healthy version of chicken and waffles which will feature baked chicken and whole wheat waffles, topped with almonds and turkey wings.
"We're starting to get on a really good health kick" the couple explains. With a family history of diabetes, the two are now committed to breaking the cycle. "We're the ambassadors for diabetes", Run explains. "So," he goes on, "that cheat day is only once in a while but when it goes down, it goes down."
"Rev Run's Sunday Suppers" premiers June 8th, at 10 pm on the Cooking Channel. Expect a lot of laughs, fun, and food. "There's no method to our madness," Rev Run boasted. "The prayer is the only quiet moment at the table."