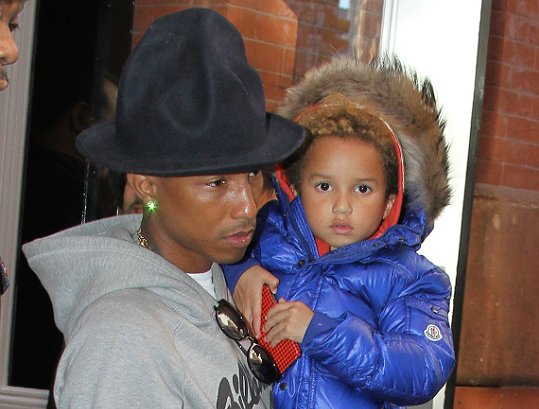 Pharrell Williams, wife Helen Lasichanh(not pictured), and their son Rocket Ayer Williams were spotted leaving the premiere of Spider Man 2 in NYC yesterday.
Pharrell, who is featured on the soundtrack of the upcoming movie, recently revealed to Oprah Winfrey that he named his son in honor of his favorite musicians.
"In the same way that the Indians name their children like behind a force or an animal or an element, we named him after a man-made machine that was meant to go up. Meant to ascend," said the star. "And metaphorically, it was because of, you know, Stevie Wonder's Rocket Love, Elton John's Rocket Man and Herbie Hancock's Rocket. All of my favorite musicians. And [Rocket's] middle name is not Man. It's Ayer after Roy Ayers."
Spider Man 2 comes out on May 2nd.
See more pictures of the duo below.
Photos: Splashnews