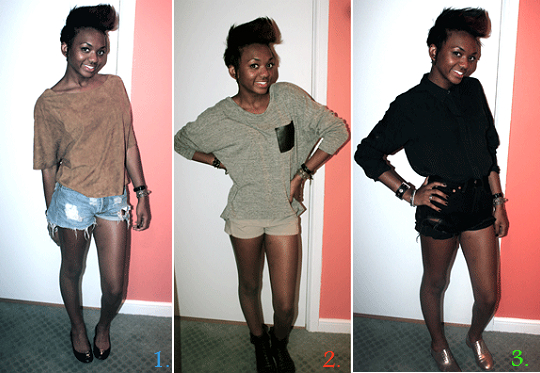 Magic Johnson's daughter Elisa Johnson knows a thing or two about fashion-she is after all a Seventeen Style Council member. According to the trendy 16 year old, 'flowy shirts and fitted shorts' are all the rage for teens this school season.
Elisa's Look In Her Own Words:
1. "I would wear this outfit to school because the camel crop top is such a fall color and the vintage shorts bring back the summer look! Since this is school, in my opinion, you do not always have to be over the top. If you wore heels, it would dress the outfit up too much, so, instead, I paired the outfit with black ballet flats to make it appropriate for back-to-school!"
2. "I would wear this outfit to school because flowy shirts are trendy right now! I love fitted and high waisted shorts for this season. I paired the outfit with my favorite boots to add more of an edge to the outfit. Boots are awesome for the fall!"
3. "I call this back-to-school outfit "summer meets preppy!" I say this because I paired high waisted vintage summer shorts with a dark blue button up, and gold comfortable flats. This outfit was easy to put together because it is the perfect outfit for one of those hot days at school! It's okay to mix styles together because most likely you will come up with a really cute outfit!"
Places To Shop: Head to Amazon.com, Shopstyle or Forever21 to get Elisa's looks.
Source: Seventeen.com