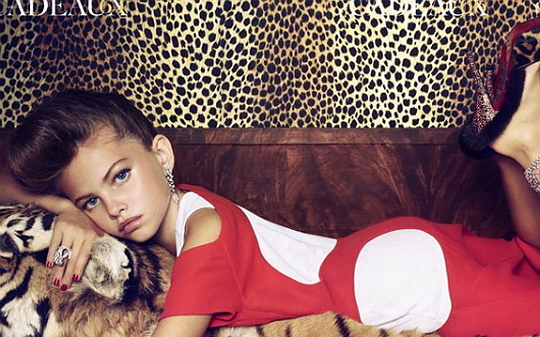 Is this picture of Thylane Loubry Blondeau, a 10-year-old model, too sexy? Some critics think so:
Wearing makeup, high heels and haute couture, Blondeau looks a far cry from a typical 10-year-old. Even in childish smocks and cotton tees, her expressions are oddly adult — a product, perhaps, of living half her young life in the fashion world (she reportedly hit the runway for Jean-Paul Gauthier at age 5). And some say Blondeau's grown-up beauty is giving other young girls unhealthy ideas about how they should look.

"We don't want kids to grow up too fast," said Shari Miles-Cohen, senior director of women's programs for the American Psychological Association. "We want them to be able to develop physically, emotionally, psychologically and socially at appropriate rates for their age." Read More at ABC.com
What are you thoughts?