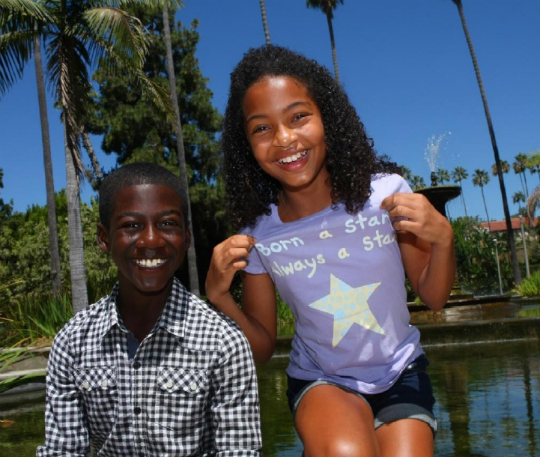 Child actors Kwesi Boakye,12, and Yara Shahidi,11, have teamed up to bring awareness to "NextAid" Foundation and to encourage other young people to believe in themselves, as is depicted by  Kwesi's "Born a Star Always a Star" tshirt.
NextAid  is a highly respected non-profit organization in Los Angeles and creates projects that serve needy children, youth, and women in Africa. As the great grandson of a Ghana West African King, Kwesi was thrilled to find out that the money raised thus far from the sale of the t-shirts has been used to support the construction of an ecological business facility located in Nairobi slum ,the Kawangware Vision Centre. The centre is locally created and managed by former street children to provide positive opportunities to get kids off the streets. To make a donation, go to NextAid.org.
Kwesi has starred in blockbuster films such as Disney's "The Princess and The Frog", Tyler Perry's "I Can Do Bad All By Myself", and has appeared on television shows which include "Men of a Certain Age", "The Mentalist", "Hawaii Five-O", "Southland", "The Amazing World of Gumball" and many more.
Meanwhile, Yara Shahidi has been busy with commercial work, auditions, and a bit of voice work for her next movie, Butter.