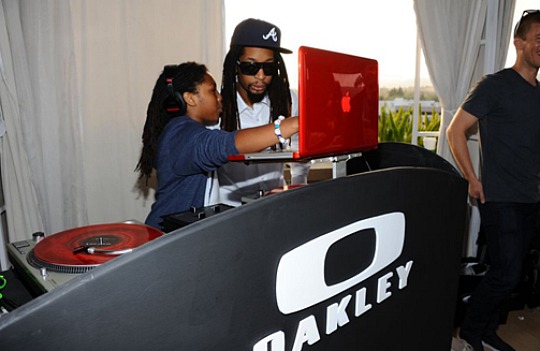 Musician/businessman and dad Lil Jon recently sat down with website UrbLife to talk about raising his 13-year-old son Nathan Smith.  Check out highlights from the interview now.
On his son's Dj'ing career:
LJ: DJing is basically like a hobby, so when he said that he wanted to start doing it, I was like, "Cool." I wouldn't be nervous. That's like if your kid said that he wanted to play football or basketball. It's something similar to all of that, you could turn it into a career later, but in DJing you could turn it into a career sooner than you can football, basketball, or baseball.
We got him some turntables, started practicing, and he also got enrolled in Scratch DJ Academy.
On whether or not his son will ever rap:

LJ: He won't do that, because he's so focused on DJing. He's so intelligent. He's acting and modeling. Right now he's so tuned into DJing; he doesn't want to be a rapper at all. He's not going to move from that, like that is his thing and he's already starting to develop a name for himself. He's getting paid to do parties and a bunch of different stuff.
He knows that that's his niche and he's going to stick with it. He knows how much it is to be a rapper. It's so many rappers out here. He has a bunch of friends that dance, and he's tried it but he knew that that wasn't his thing. He's going to stay with what works with him.
On talking about the birds and the bees to his son:
LJ: He doesn't go to regular school, so that's kind of keeping him away from some of the nonsense. His mother and I are tough on him, and he doesn't want to get on either one of our bad sides. He has pretty good morals. He's 13-years-old, he talks to his friends about that sort of thing and I'm sure he knows something, but we haven't had that heart to heart.
On keeping his son out of the recording studio:
LJ: My private life is my private life, and my work life is my work life. It was separated. I don't make music for 10-year-olds. Of course he's going to hear it now, and he'll hear it on the radio. If you instill the right values in your kids, they won't use the curse words or sexual words in the song.
As an adult, I can listen to some stuff around my son. If it's a little too 'out there', I wouldn't play certain stuff around him when he was younger. Right now he's 13 and a lot more mature.