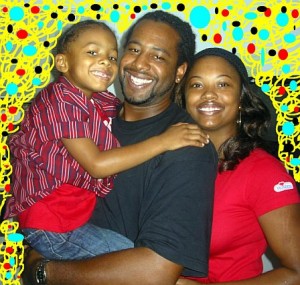 I was a young mother (I still have IT if you ask me, lol). Only two months shy of my twenty-first birthday, I was still a baby when I gave life to a baby. After spending several years with my "high school sweetheart", our relationship  took a sharp turn upon the arrival of our baby boy. No longer was it about us. The petty arguments had no room in the tiny space we called "our family". All decisions had to be rational and make sense for his future. There was no degree of priority that stood above our son's well-being. Like so many other young couples and families making their mark on the world, we had a plan. But even the most well thought out plan can can crumble with the emergence of life's circumstances. Through it all, we had to make sure our son never questioned his connection to our issues. The only weight a child should carry is that of innocence. We were the adults after all.
As the years passed— birthday parties, holidays, first hair cut, first day of school— our issues became visible to our son. Finding clever ways to mask our problems proved difficult. He started noticing if mommy was sad or daddy was angry, and vice versa. His eyes captured a light less bright than that of child who was insensible. No longer was our space big enough to hold all of the baggage we had deserted over the years. There was an overflow of emotion and the entire family was buried deep in a swamp of surrender. We had given up on our plan. Why was that?
We lacked one of the most important relationships one could ever be involved in— a relationship with God. Before you click away or shout "OMG", which by the way contains the same word, I'm not going to get all religious on you. Your reaction to this topic is insight enough. I'm just offering a justifiable explanation to the ruins of a family and a possible solution to repairing all the broken relationships in my life.
I'm not a daddy's girl. My relationship with my biological father exists, but has not been attended to for quite some time. I have suffered a great deal because of this. I am the face behind the concept of dating a woman with "daddy issues". The idea of abandonment, a balanced level of control, and a sense of belonging are constantly in the front of my mind. It's even more visible being the only-child because I do not have another relationship to compare my own to. This struggle concerning my relationship with my father has made me look at my relationship with my son, and what I should be doing as a mother and woman.
I owe my father, my son, and his father, my wholly spirit. To offer what life I have to give and build a relationship that can withstand any situation…and one that includes OUR FATHER. This is ultimately the only way I'll ever be the best me— mother, daughter, friend, sistah, woman. No matter what becomes of us, we'll always have each other to become what matters the most. A family with faith.
-Keonté
For more on my adventures in motherhood, visit my personal blog, www.mommy2k.com.