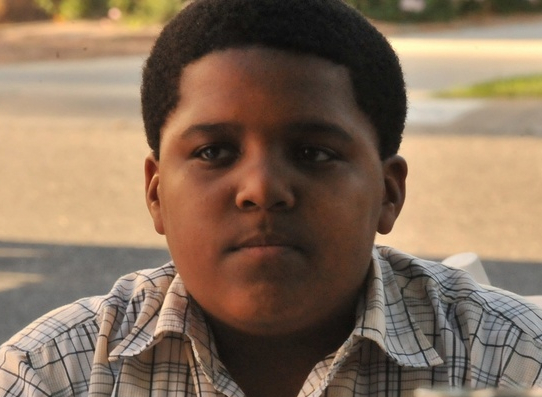 CJ Wallace,14, talks about his latest film role in Everything Must go with XXL magazine. Read on to find out if the son of the late Notorious B.I.G. hopes to one day follow in his father's footsteps:
On his character Kenny in movie Everything Must Go.
Kenny, he's a loner. He's a real lonely kid who doesn't have any friends. His sister is the only adult who looks after him because his mom works late. All he does is ride his bike around the neighborhood. [One day] he notices this stuff out on [his neighbor's] lawn. Kenny sees that as an opportunity to possibly gain a friend. He ends up becoming best friends with him [Will Ferrell's character].
On working with Will Ferrell:
It was great. He's a cool dude. He was kind of different than what I expected. I thought he'd be the guy to crack jokes all the time. He can be real serious. [We had] a good relationship. It was almost like [real life] Kenny and Nick. He was real helpful off-set. He helped me out with stuff I didn't really understand. He's real easy to work with and he made me feel comfortable all the time.
On whether or not his mom [Faith Evans] is supportive of his acting career:
At first she was a little hesitant because school is always first. She told me, "You gotta be on top of that if you want to do this." She's definitely supportive of anything I do no matter what it is.
On what he hopes to one day study in college:
I want to go to college and study film because I really like directing and taking pictures. I really like being behind the camera as well as on camera.
On what sparked his interest in acting:
It was a little different. At first I didn't want to be an actor. My grandma is the one who told me that I should be my dad in Notorious. "You should do it; it would probably be easy for you," she said. I did it and I took a bigger interest in acting. I took advantage of the opportunity and I found out I was really good at it.
On his dad's legacy:
I feel like I'm doing pretty good [in] continuing the legacy [and] just keeping his name alive and carrying it on.
On whether or not he hopes to one day be in the music industry like his dad:
I don't know. We'll see what happens. I'm only 14 so I got a while to choose. If I can choose it would probably be acting. It's just more fun.
Click here to read the entire interview.