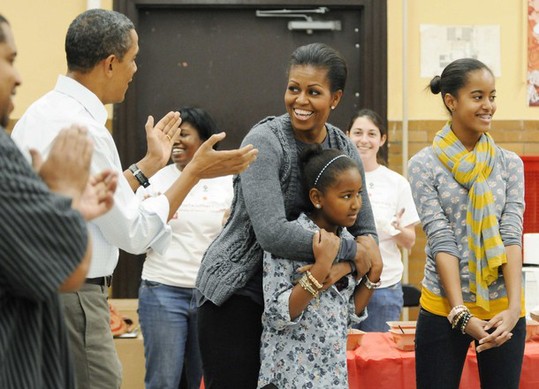 First lady Michelle Obama  is "not a big fan of young kids having Facebook".  Therefore, it doesn't come as a surprise that  her daughters, Sasha, 9, and Malia, 12, are not allowed on the social networking site.
First Daughters Sasha and Malia Obama aren't on Facebook, First Lady Michelle Obama said on NBC's "Today" Show.

"I think we're lucky that there are a lot of real constraints, things like Secret Service and stuff like that," Mrs. Obama said. "I'm not a big fan of young kids having Facebook. It's not something they need, it's not necessary right now."

She added that she may allow Malia, 12, and Sasha, 9, to join the social networking site after leaving the White House, depending on how old they are at that time. In the meantime, she said she and President Obama are working to give the girls a normal childhood.

"If you talk to our kids, they're really very normal," she said((Source).
Watch the entire interview now. Michelle talks about Facebook at the 13:40 mark.