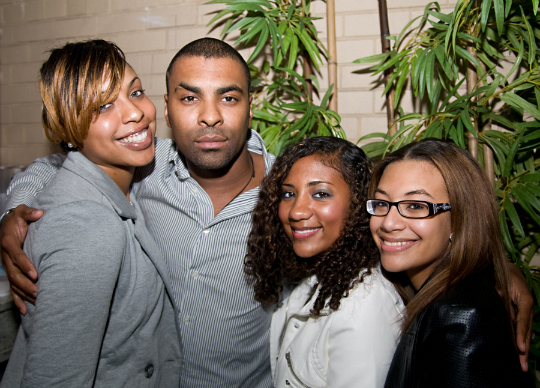 Singer Ginuwine poses with his daughters Tiffany, Cypress, and Dejan at his surprise birthday event a few months ago. Together Ginuwine and his wife Solé have eight children(two together and six from previous relationships).
In a candid 2009  interview with Sister2Sister magazine, Ginuwine admitted that though he loves all of his children, he regrets fathering them with four different mothers.
Sister2Sister: How many kids do you have now?
Ginuwine: Eight.
Sister2Sister: You and Solé have how many together?
Ginuwine: Together? We only have two. She had two before me and we had two together. And I had four more before her.
Sister2Sister: I know, but how many babies' mamas are there?
Ginuwine:Four.
Sister2Sister: They were all different women?
Ginuwine: …(quiet)
Sister2Sister: I'm going to kill you. [laughter] If you saw a young man in your position today, what would you say to him?
Sister2Sister: I can tell you what I would say because I've said it before to a couple of guys. When you have a babymama here, a babymama there, it's going to be drama, period. Regardless of what one says to you—"I'm not going to trip like that," "I'm cool" and all that—after a while that goes out the window. After you leave that one person and you find love somewhere else, that person that you were with, they hate that.
Sister2Sister: Even if they don't like you anymore?
Ginuwine: I think so. Because, especially when you are giving so much of yourself and so much material things to that new person and they see how they're living now, it's kind of a vendetta thing sometimes because they want to be in that position. I don't regret none of my kids; I regret how I had them.
Photos: Metromix, Gliterazzi