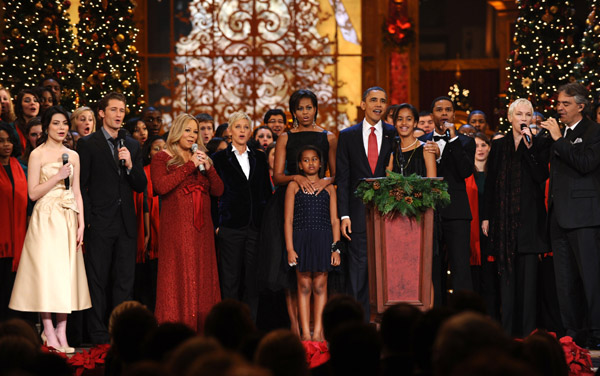 It's official! Nick and Mariah Carey are expecting twins! Nick announced the news on his radio show Rollin' with Nick Cannon today:  "In order for my wife and I to have our life, we need to be up front and I need to be able to share things with you and be real," Cannon, 30, said on his 92.3 Now radio show Thursday. "I didn't even tell my wife I was gonna do this," he admitted. "I'm probably gonna get yelled at for not getting permission…We are having twins!"
Nick says that the Obamas were the first to know of the happy news Click here to here him explain.
Original Posting on 12/16/2010:
Nick Cannon and Mariah Carey may be welcoming twins after all. The dad-to-be has uploaded a holiday greeting via Animoto hinting that he and his pregnant wife are expecting "new additions to our family."
VIDEO: Click here to watch the clip via Animoto.com
Last week, Nick Cannon laughed off rumors that he and Mariah are expecting twins.
He told Access Hollywood, "That [twin] rumor came from an interview Mariah did where she was talking about her Christmas album and how she's been singing so much, and she referred to her stomach as 'they," Nick told Billy and Kit. "She said, like, 'I hope they don't hate Christmas.' From there we heard all of these twin rumors."
"But we want to be surprised," he continues. "We were told that it's going be one of the biggest surprises of your lifetime to see what the sex of the baby is, so, we're trying to wait. But you never know."
*Update: Here is a video of Nick confirming the happy news!