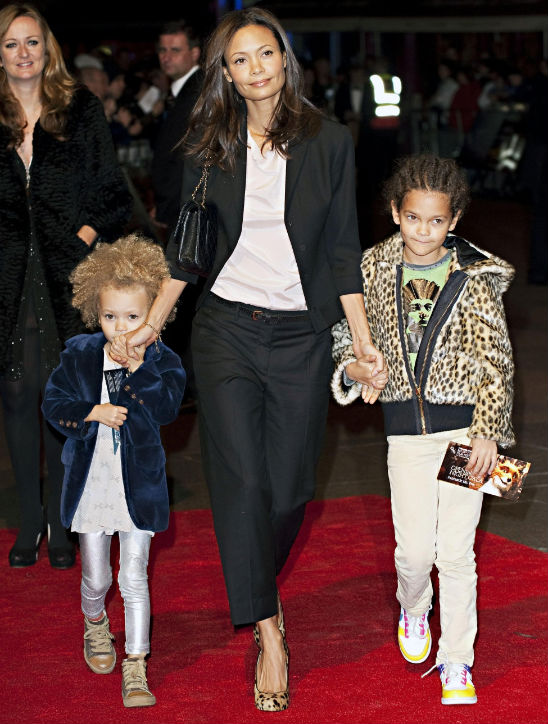 Actress Thandie Newton, who stars in new movie For Colored Girls, recently sat down with website Hollymoms to talk about her two daughters Ripley, 10, and Nico, 5. Check out snippets from the interview now!
On what she wants to teach her daughters:
I want my girls to feel empowered. That's the most important thing. I think as a mom it's important to teach your children that they're extraordinary, powerful beings. Your job is to keep the path clear so there is nothing they can trip up on.
On whether or not her girls are girlie girls:
No. They're not into going to stores and buying dolls. Ripley is not a girlie girl. If I bought her an American Girl doll, the hair would be cut off in a week. I go into her bedroom and find a crew cut left on the floor. Poor Barbie!
She adds, Moms shouldn't force their girls to be too girlie. If they don't like dolls then let it go. Let them find their own creative outlets. Maybe they don't like dolls, but love to paint.
On what drives her crazy about motherhood:
We can only do so much as mothers and then they go to school. It's a forest out there and we must let them go into it.
On what she teaches her girls about school bullies:
I teach my girls not to give all their power to the thing hurting them. I also want to raise kind girls. You don't want your kid hating the other person. I remind my girls that mean kids at school might have a hard home life. I'll say, "Maybe they're not being treated well by their mom." That makes kids think.
Photo:Bauergriffin