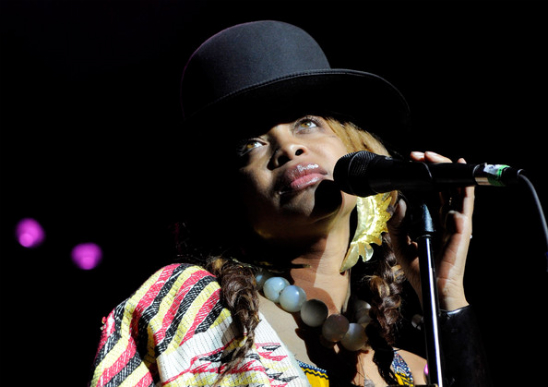 Singer Erykah Badu can often been seen touring with her son Seven Sirius,12, and daughters Puma Sabti,6, and Mars Merkab,18 months, all of whom are homeschooled. How does this working mom, who is on the road seven months each year, manage to balance her career with motherhood? With the help of her mother, brother, grandmother, and fathers of her three kids, of course!
Erykah's children all have different fathers, but they form a tight-knit group. Seven's father is André Benjamin—known as Andre 3000 of Outkast—a popular hip-hop artist who's also a hands-on dad. "He spends a lot of time with his son and is present for every program, every report, and has him in the summer," she says proudly. "Seven is getting to an age where he needs his father more, and his father has made himself available. He's like an encyclopedia for his son." She describes Seven as a self-sufficient young man who is humble and compassionate. "He knows how to heal himself and cook for himself," she says. "He makes very good decisions."
Erykah's daughters also have committed fathers. Puma's dad, rapper The D.O.C., lives in Dallas and picks her up from school, often spending the rest of the day with her, until she goes to sleep. Mars's dad, rapper Jay Electronica, lives elsewhere but sees his daughter on video chat each day. "Even though she's one, when she sees somebody walk off with a computer, she gets upset, because she thinks that's her daddy," says Erykah.
When addressing the question of child custody, Erykah explains that she doesn't use the courts to negotiate child-care arrangements. "They're my friends, my supporters, my confidants," she says of her children's fathers. "We have a great team effort going on, and each of the fathers support one another's children. This is a little tribe." Reflecting on her past relationships, she sees lessons learned from each one: "Every opportunity I have to love and to share and to grow, I take very seriously."