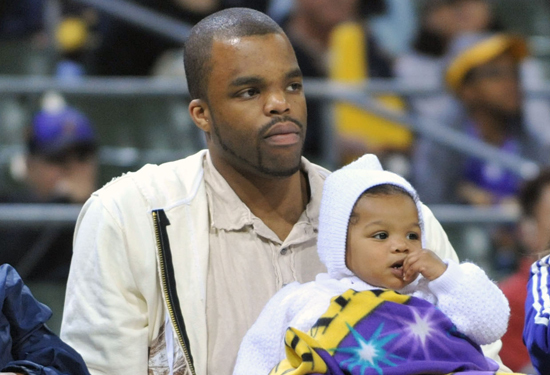 NBA player Shelden Williams sits courtside with his daughter Lailaa,1, at a Los Angeles Sparks game in early June.
"When Shelden Williams isn't suiting up for the Boston Celtics, you will most likely see him sitting courtside at Los Angeles Sparks games. Typically his daughter Lailaa is nearby or sitting on his lap while his wife and Lailaa's mom, or Candace Parker to the rest of us, is out on the court. There's no doubt that Lailaa is surrounded by the game of basketball at such a young age, and in the video that follows Williams describes what it's like to share the off-court responsibilities of raising a family with Parker (Source)."
Also in the video is NBA coach Jason Terry of the Dallas Mavericks. Shelden's interview starts at the 1:01 mark.
Photos:Ap/Getty