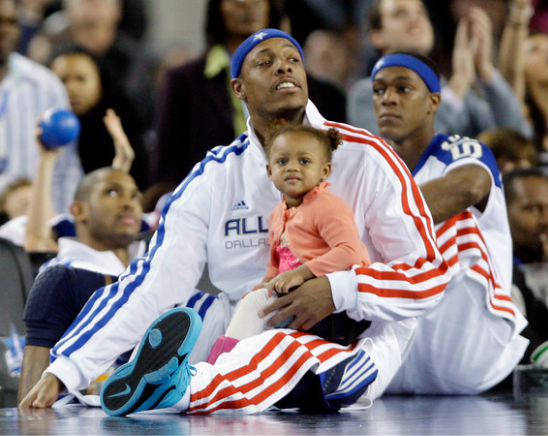 As a child, NBA player Paul Pierce was referred to as the "roly-poly kid.''
"I struggled with my own weight as a young man and I have seen my family, friends, and community struggle with not having enough opportunities to eat well and engage in physical activity,'' says Pierce, 32. "Staying active and eating well has been a huge part of my success and I think it's critical that kids understand how important exercise and nutrition are to a happy, successful life.''
In fact, Pierce is adamant about teaching his two-year-old daughter Prianna healthy eating habits. Prianna is already a fan of Broccoli and salmon.
"She wants whatever I eat, it's crazy,'' he said, laughing. And they both love chocolate ice cream.
"I can't help it,'' says Pierce. "I think if you exercise right and eat right it's OK to reward yourself, and that's the way I reward myself, with a nice cup of chocolate ice cream.'' Once a week.
Paul is now the national spokesman for the Alliance for a Healthier Generation, which aims to reduce childhood obesity by 2015. As part of Paul's campaign initiative, he has launched website TheTruthOnHealth.org. Check out TruthOnHealthy.org to pick up tips on how to start your kids on the path toward healthy living.