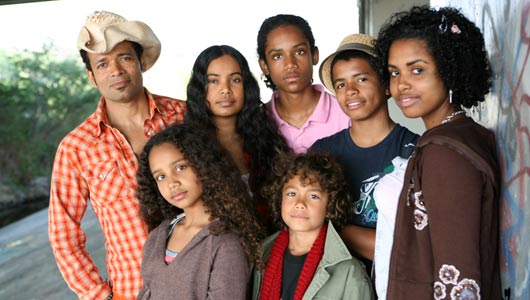 Actor/Filmmaker Mario Van Peebles and his family are going "green" in their new reality series Mario's Green House. The reality show, which premiered on September 27th,2009, stars Mario(in cowboy hat), his  five kids Makaylo, Mandela, Marley, Maya and Morgana (3 boys, 2 girls), his wife Chitra, and his father Melvin.
Here is a description of the environmentally-friendly reality show:
Mario has made a resolution to go green and he's taking the family along the journey with him. He embarks on a massive eco-sensitive renovation of his house and hopes that the renovation will be a creative and meaningful project for his entire family, With a busy Hollywood career and a full-time job as Dad, Mario soon learns that major construction is just the tip of the iceberg when he needs a whole lifestyle makeover.
Check out 'Mario's Green House,' which airs Sundays at 6 p.m. (ET) on TV One.
Photo:Adam Powers
{Thanks, Naysa}