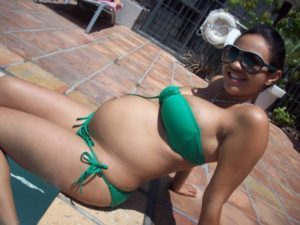 * Will Smith and his eldest son Trey will be attending an Italian Supercup match this Saturday(August 8th) in Beijing, China. The Smith family is currently in Beijing filming the remake of The Karate Kid, which stars Will's younger son Jaden.
*Monica "Danger" Leon of reality show, For The Love Of Ray J, is pregnant! Months ago, Monica lied about being pregnant by singer RayJ. So who is the father of Monica's baby?  No word on who the baby's father is but Ms. Monica is currently in a stable relationship!
* Singer Kelis has been spotted all over town with her newborn baby Knight. Passersby say that Kelis has that "happy mom" glow.   Meanwhile, the singer has a new haircut and hair color. Kelis is even back to enjoying little alcoholic treats. "I'm drinking sangria!!!!! Praise be to God! I'm back,", Kelis said via twitter recently. Guess  she is not breastfeeding little Knight?
*Jesus Luz, the boyfriend of singer Madonna, has been spending quality time with Madonna and her kids. Jesus was recently spotted holding Mercy James in St. Petersburg, Russia,where Madonna is currently on tour.
*******
Welcome to the new  BCK Rundown! In this new segment, you will get your afternoon fix of the comings and goings (and even rumors!) of your favorite celebrity babies, kids, and their parents! Welcome to the BCK Rundown! Enjoy!
Click Here to read Tuesday's RunDown!
Photo Source:Monica's Twitter