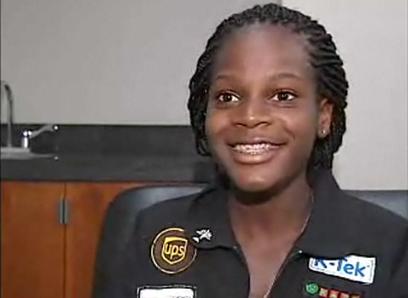 15 year-old Kimberly Anyadike is the youngest African-American female to fly solo across the country. Anyadike made history by flying across country – logging 7,000 miles – from Compton to Newport News, Va., in 13 days.  Kimberly, who started flying at the age of twelve years old, was accompanied by legendary Tuskegee Airman, Levi Thornhill.
So how did Kimberly enjoy her flight?
"I got a rush whenever I took off, with my hands on the controls and throttle. But, I loved seeing everything," Anyadike said. "When you're on the ground you forget how beautiful the country is. I had to tell myself to soak in as much as possible."
Kimberly said she flew because she "wanted to inspire other kids to really believe in themselves." She also wanted to honor the Tuskegee Airmen, the U.S. Army Air Corps' all-black combat unit that served during World War II.
"They left such a great legacy. I had big shoes to fill," she said. "All they wanted to do was to be patriots for this country. They were told no, that they were stupid, that they didn't have cognitive development to fly planes. They didn't listen. They just did what they wanted to do." Click Here to read more about this story