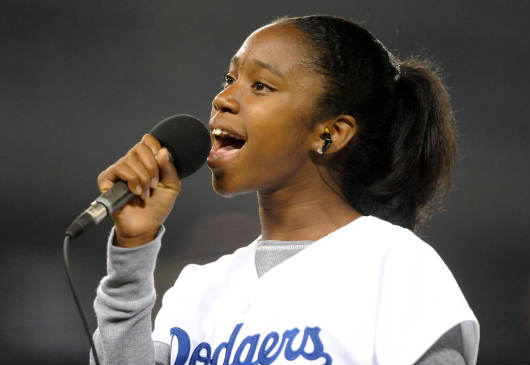 She currently appears on CBS' Young and the Restless as Ana Hamilton, a recurring character who plays opposite America's Next Top Model cycle 3 winner Eva Pigford. For Jamia Simone Nash, whose passion is singing and acting, being just a child actress is not good enough.
Just yesterday, the 12-year-old star sang God Bless America during the seventh inning stretch of the MLB game between the Arizona Diamondbacks and Los Angeles Dodgers.  Soap Opera Digest recently had the opportunity to sit down and talk with the young star. Read below as Jamia tells us a little bit about what it is to be "Young and Restless."

Soap Opera Digest: How are you liking Y&R?
Jamia Simone Nash: I'm loving every minute of it. It's very fun to be the only kid there.
Digest: How did you get the job?
Nash: Miss Maria Bell, the head writer, called me directly. She called me after seeing me perform.
Digest: Do you like acting or singing better?
Nash: I actually like them both because they're both so different. I can't choose just one of them! I'm going to continue to do both as I get older.
Digest: After doing movies, was it harder or easier doing a soap?
Nash: It was easier because I'm fresh in the morning [laughs].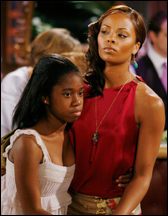 Digest: Do you hang out outside of work with your co-stars, like Kristoff [St. John, Neil] or Eva [Marcille, Tyra]?
Nash: Not really, because I'm younger and I don't spend time a lot of time with adults other than my family outside of work. I think they're so nice, though, and I appreciate everyone's love and support.
Digest: Are you and Ana anything alike?
Nash: Not at all! We have absolutely nothing in common. I have two parents. My mom is not on drugs and my character's experienced all this stuff I've never experienced. The stuff Ana is going through I haven't really been through.
Digest: Were you nervous when you sang at the Academy Awards?
Nash: No, I wasn't nervous at all. I was really surprised when they turned the lights on. It looked really huge when it was dark, but when they turned the lights on, there was this whole crowd there. It was really great.
Digest: Do you go to school or are you tutored on the set?
Nash: I do go to school, but when I'm working there's a tutor there.
Digest: Do the kids at school watch you on TV or in the movies?
Nash: Yes, but they don't make a great, big deal about it. That's what I love about it. They're like, "Oh, we're so proud of you; keep up the good work," but then they don't talk about it anymore. Then I can focus on everything else without having people bombard me about my career.
Digest: What do you like to do for fun besides acting and singing?
Nash: I like hanging out with my sister at the mall and with my friends. I also like going for drives with my family, through mountains and canyons and stuff. I like to go around the world and travel to different places.
Digest: Where have you traveled to?
Nash: I traveled to Georgia, which is where I'm originally from. I went to Nebraska and also Chicago. That was fun because we visited our old pastor there. I don't even remember all the places because there were so many! But I've always wanted to go outside of the country, like to Brazil and Argentina and Italy. My dad used to live in Sicily so that would be fun to visit.
Source; Splashnews