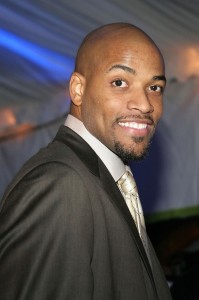 It's a boy for New Jersey Nets player Jarvis Hayes and his wife. Jarvis almost missed the birth of his son.
As told by NBA.com:  Shortly after landing in Minnesota around 5:30 p.m. for Sunday's game against the Timberwolves, Hayes received word that his expectant wife's water broke. The next flight to Atlanta left at 7:20 p.m., with none to follow until nine the next morning. Bolting the hotel for the airport via taxi, Hayes breezed through security and buckled into his seat by 7:10.
"(The driver) was going pretty fast, but all the stars were aligned," Hayes said. "When I got to the airport, there was nobody in the line, there was nobody in the security line. It took me three minutes to step out of the cab to be sitting in my seat on the plane."
Hayes traveled without incident, reaching the hospital in time to witness the birth of a healthy baby boy, Jarvis James Hayes II.