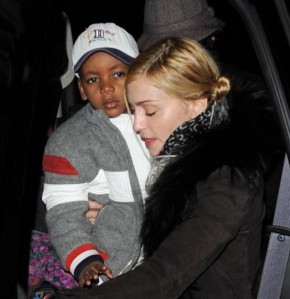 Madonna  is "considering" adopting another child from Malawi.  She tells Malawi's Nation newspaper, "[Adoption is] something I have been considering, but would only do if I had the support of the Malawian people and the Government."
Back in 2006, Madonna and then-husband Guy Ritchie adopted their  son David Banda from Malawi; The couple faced a barrage of criticism,  with protests from some groups accusing the Malawian government of  giving Madonna special star treatment and sidestepping policies on foreign adoption .
The adoption was later deemed legal in 2008. Now Madonna wants a sister or brother for David.
 "Many people — especially our Malawian friends — say that David should have a Malawian brother or sister. It is a big priority for me to educate my son about the world, but always to stay connected to his Malawian culture," she says.

As for a her recent divorce from Guy Richie, the star insists that she and Guy are still friends and are providing  a  good "foundation" for their children. 
 "Everything between us is very amicable. … We both agree that our children should always feel a deep connection with both their parents. It is our responsibility to give them that foundation."
 Last year, Madonna was  rumored to have signed paperwork to adopt a Malawain child named Mercy James, but the adoption never came to pass.