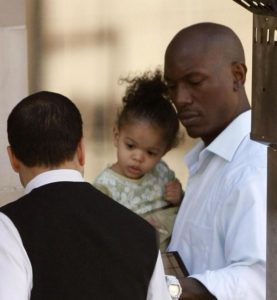 A California judge has awarded singer Tyrese Gibson and his estranged wife joint legal custody of their 19-month old daughter Shayla. Tyrese's estranged wife, Norma Mitchell-Gibson, is to have primary physical custody of their daughter. In a final ruling made on 3/09/09, the singer/actor was ordered to pay Norma child support in the amount of 6,222.00 per month, payable with 1/2 on the first of the month and 1/2 on the 15th. Per the judge's ruling, both parties are only allowed to communicate using Our FamilyWizard .
Click here to see the court-ordered documents, provided by RadarOnline.
Tyrese filed for divorce from Norma in January of this year, just ten months after marriage. Norma claims that during that time, Tyrese was not there for their daughter Shayla, now 19 months old. Norma will contest the couple's prenuptial agreement on August 13th and 14th of this year.