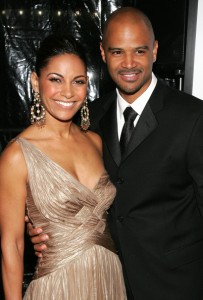 Updated on Feb 26th: It's a boy for actress Salli Richardson-Whitfield and husband actor Dondre Whitfield. The couple welcomed their baby boy, who weighed 7 lbs., 7 oz on January 24th((AceShowBiz)
Via Purepeople translated by Blackcelebkids.com: According to French website, PurePeople, actress Salli Richardson-Whitfield,41, the former girlfriend of Matthew McConaughey and the late Tupac Shakur, gave birth to her second child, a son named Dre Terrell, born [January 24th].
One may have seen the comedienne in film I am Legend with actor Will Smith. Salli has also appeared in various films such as CSI Miami, House, New York Undercover, and Eureka.
Married since 2002 to actor Dondre Whitfield, the couple are happy to have a little brother for their daughter Parker,3.