FEATURED MOM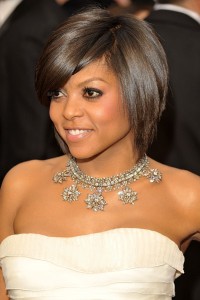 The road to stardom wasn't so easy for Oscar nominated actress Taraji P. Henson.  Before becoming one of Hollywood's sought-after actresses, Taraji  was a just a driven mom trying to make a living for her son Marcell.
 During her junior year of college, Taraji became pregnant with her son Marcell, now 14 years old.  Pregnancy, however, did not deter her from going after her dream of becoming a working actress. The driven mom worked more than two jobs to pay for her schooling, all the while managing her pregnancy.  In 1995, she became a mom for the first time; it was at this time that she graduated from Howard university with a major in theater.  Taraji's life seemed to be going fairly well until 2004 when the father of her son  was murdered. Taraji explains the pain she felt at the loss of her first love.
"He was my first love, and we'd been together for eight years," she says quietly. "It was such a senseless death."
Taraji was left a widow and a single mom struggling to raise her only son.  She struggled until she had no other means but to go on welfare.
Today Taraji is happier than ever. She was nominated for her supporting role in movie The Curious Case of Benjamin Button. Although she did not win an Oscar, Taraji's dad who died in 2005 would be proud of his Oscar-nominated daughter.