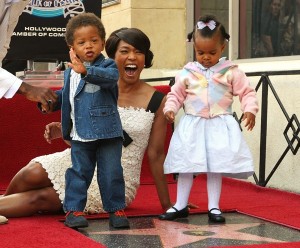 Actress Angela Bassett says that she lives a "blessed" life, but it's not one without its ups and downs.  The working mother of two tells Blackvoices that at times it is hard to balance work and family.  Thankfully, Angela's husband, actor Courtney B. Vance ('Law & Order: Criminal Intent'), "is there" for their kids, 3-year-old twins, son Slater Josiah and daughter Bronwyn Golden, when she is not.
"When the kids came along, [Courtney] finished 'Law & Order' so he was home. The working mom adds, "Our lives are blessed, but it's not to the point where I know my next projects for the next five years. It's still very much like the life of most actors. You're doing this one; it comes to an end, what's the next one?"

In the meantime, Angela has secured a job with television show, ER. Although ER's set is only 15 minutes away from her home, Angela says that it's still tough working away from home.
"I think the hardest part for me is that I work 15 minutes from home, but if you're on location for a film, you go away and it's so tough"
She continues,  "I'm 15 minutes from work, but their schedule is their schedule. On Monday, I have to be there at 6:00 am which means I have to get up at five, but they're not up at 5:00 am. They're not up until 7:00 am. I have to do a 12 to a 16 hour day and when I get home at 8:00 pm, they're sleep because they go to bed at 7:30. Then, on Fridays we might work until 3:00 in the morning so that's the hard part. I'm in the house with them- the husband and the children- and I haven't seen you all day or I haven't seen you for two days."