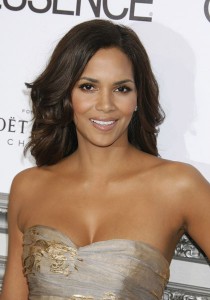 On Thursday(February 19th) actress Halle Berry was one of four stars to be honored at the 2nd annual ESSENCE Black Women in Hollywood Luncheon. During her acceptance speech for the "Power Award", Halle Berry moved a room full of people to tears when she admitted that her  11-month-old daughter Nahla Aubry makes her a better person, and even a better actress.
"As a woman, I thought it was all about work and accomplishments. Then this little baby comes along and says that it's not about that.  I'm complete. I have more to offer my craft because [my daughter] makes me indelibly better every day."
Halle Berry also thanked her beau Gabriel Aubry, the man she says "changed [her] life, and made [her] realize [she] was chasing the wrong star."
The 42-year-old actress was recognized for her accomplishments in acting, producing and for her philanthropic work.