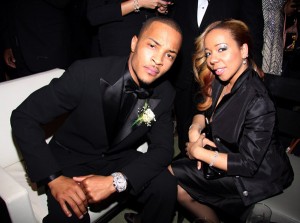 The death of a child is a painful experience for any parent and for singer Tiny Tameka Cottle, the pain was no different when she lost her second baby with rapper T.I. a.k.a Clifford Harris. In a recent interview with Essence.com, Tiny talks about the depression she suffered after miscarrying baby Lelah Amore. Tiny explains,
"From the time I was pregnant, the doctors told me the sac that holds the baby was split in two and they had not combined by the time she had turned 16 weeks old. As a result, she was positioned in the middle of those two sacs in her own sac. They told me there was a possibility that she could get tied up in her umbilical cord, but no one knew how or why this happened. Still, I never thought that I would lose the baby. Even the day before I visited the specialist I was told that everything was okay with the baby. When I went to see the specialist, that's when they determined there was no heartbeat."

Tiny admits that she felt very depressed after the death of Lelah.
"I was very upset and depressed for a while. It definitely brought us closer in our relationship. I kept a lot of company around me to help me keep my mind off of it, so I wouldn't be so sad. She was 6 months old and I named her Lelah Amore. I keep her belongings near me—pictures and roses [from the burial]. It was very deep. Here I am, in the hospital to have a baby, deliver it, but I'm going to go home with no baby. After Lelah was born, I kept her in the room with me the whole day. They placed her in the little basket and we dressed her in an outfit and had a blanket wrapped around her. They came and got her because her body went cold and I wanted her back so they warmed her body again and I kept her. People might think that's crazy, but I just needed to be with her. Everybody came to visit her and then me and [T.I.] had our time alone with her. We had a funeral for her and it was beautiful. T.I. did a good job with the burial. I don't go back to visit her grave that often because it makes me too sad, but I do go for holidays and special days. My experience taught me not to take life for granted. Reverend Run's wife, Justine, reached out to me and shared some very powerful and encouraging words with me during that time and I so appreciated it."
Through it all, Tiny and her fiance T.I. have managed to grow closer together. Although rapper T.I. will be going away to prison this March, Tiny says that she will "stick it out" with her fiance.
"I know my man's heart and because of that I'm going to be everything I need to be for him. Yes, he's made mistakes, but so have I. If your man stands up for you and is there whenever you need him, then doesn't he deserve your unconditional love and support? If I know that about my man, then that's the kind of woman I'm going to be for him. I might need him in different ways than he needs me, but if being his woman means loving, supporting and putting his mind at ease, then the least I can do is step up to the plate and be there for him and our family."
In all, T.I. and Tiny are parents to six children: sons Messiah Ya'Majesty, 8, and Domani Uriah, 7(their mom is T.I.'s ex-girlfriend Lashon Dixon); son Clifford "King" , 4, Major Philant, 8 months(mom is Tameka Cottle);daughter Zonnique is Tameka's daughter from a previous relationship and daughter Deyjah is T.I.'s daughter from a previous relationship.
Republished; original print atEssence.com