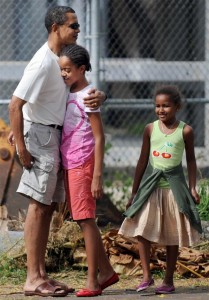 Moving is never easy for anyone, let alone for a seven year-old and a ten-year old. For seven year old Malia and Sasha Obama, however, moving from Chicago to the White House was a steady transition. 
The President told NBC's Journalist Matt Lauer in a exclusive interview on Feb 1 & 2, 2009 that although the girls have only been in the White House a couple of weeks,  they have managed to maintain "a sense of normalcy".
 "If there is a pair of kids who can handle this weird fishbowl, it is those two."
Obama adds, "Nobody's cooler than my two girls. They just seem to take whatever comes with, you know — happiness and — steadiness. And they're loving school. They're making friends … and — they've already joined some clubs. And Sasha, you know — I think maybe to endear — myself to her, she — she decided she wanted to join a basketball team. So — what more could I want?"
And the best deal of being President Barack Obama? Getting to spend quality time with his wife and kids!
"It's the best deal — of — of this whole thing is it turns out I've got this nice home office. And — at the end of the day, yeah, I can come home, even if I've got more work to do, I can have dinner with them. I can help them with their homework. I can tuck them in. If I've gotta go back to the office, I can."