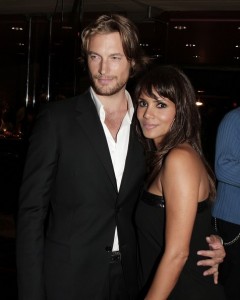 Actress Halle Berry and her boyfriend, model Gabriel Aubry, want another baby.
"[Nahla Ariela] needs a sibling," Aubry told People at Monday's Callaway Golf Foundation Challenge at the Riviera Country Club in Pacific Palisades, Calif., to benefit the Entertainment Industry Foundation. "I think it's important."
"I've never known anybody who's had a single child [and] I've always been around big families," adds Aubry, who comes from a family of eight children. "I believe in big families."
Gabriel added that Halle Berry, 42, is "okay" with the idea of adding to their family.
Halle's only daughter, Nahla Ariela, turns one in March and she has already started talking!
What were Nahla's first words?
"I don't want to say [what her first words were] but it was probably 'dada,' " Gabriel says. "She doesn't say 'dad.' She says 'papa,' which is the French version of it."
But to not hurt anyone's feelings, says Aubry, "Let's just say she said, 'mama.' "