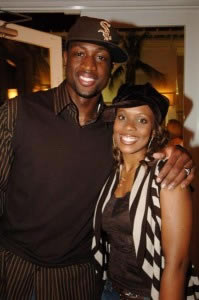 Siovaughn Wade, wife of Miami Heat guard Dwayne Wade, is claiming in divorce legal papers filed yesterday, that the NBA star has abandoned his children Zaire,7, and Zion,1. Siovaughn says although Dwayne was named a "Father of the Year" in 2007 by the National Father's Day Committee, he has gone "months" without seeing his boys. Siovaughn says, his "failure to spend time with them . . . has resulted in the children at times being afraid of him; in fact, Zion . . . does not recognize or know Dwayne." Siovaughn also alleges that Dwayne has committed adultery, and infected her with an unspecified sexually transmitted disease(not HIV), from which she has suffered "grievous physical, emotional and mental injury". However, she has petitioned that "Dwyane must disclose the identity of all of his sexual partners during the parties' marriage".
Dwayne petitioned for a divorce from Siovaughn last May. Dwayne's attorney, James Pritikin, issued a statement: "These malicious allegations are absolutely false and we look forward to the opportunity to dispute them in court."

Siovaughn's lawyer counters, "A person's public persona does not necessarily reflect his behavior in private," Marcus adds. "Mrs. Wade is prepared to prove everything she alleges. And, medical records don't lie."
Dwayne's Heat salary is $14,410,581, according to published reports. He has a dozen vehicles, including four Cadillacs, four Mercedes-Benzes and a Maybach, court papers say.
Meanwhile, Siovaughn says, he cut her off financially. Siovaughn is seeking for sole custody and financial support.  The couple wed in Chicago on May 18, 2002.
Reprinted content;Original Source