The Tampa Bay Buccaneers star Shaquil Barrett and his family are dealing with an unspeakable loss. The Tampa Bay Times broke the news that Barrett's two-year-old daughter, Arrayah, died after drowning in the family's swimming pool on April 30th.
The Tampa Bay Times reported that officers arrived at the NFL Linebaker's home shortly before 9:30 a.m., responding to a call that a child had fallen into a pool. Arrayah was transported to a nearby hospital; however, efforts to revive her were unsuccessful, and she was pronounced dead.
— Tampa Bay Buccaneers (@Buccaneers) April 30, 2023
The Tampa community, in addition to the Buccaneers united to support the NFL star and his family in their moment of loss. The Buccaneers posted a touching tweet on Twitter in support of Barrett.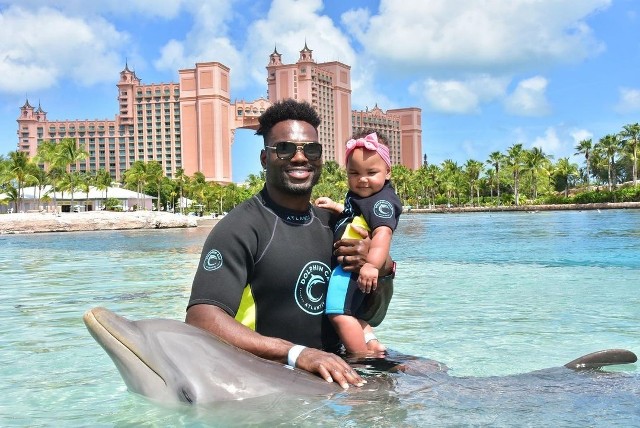 "Today's tragic news is heartbreaking for all members of the Buccaneers family. Our thoughts and prayers are with Shaq, Jordanna and the entire Barrett family during this unimaginably difficult time."
The statement continued, "While no words can provide true comfort at a time such as this, we offer our support and love as they begin to process this very profound loss of their beloved Arrayah."
Arrayah recently celebrated her second birthday on April 19th. Jordanna Barrett happily posted on Instagram wishing her baby girl nothing but love on her special day.
"Happy Second birthday my little Arrayah Sunshine! We love you so much! You are the completion to our family, the apple to our eyes! You've become the most fun, energetic, entertaining, sweet, kind, smart, precious little girl we could have ever dreamed of!" the founder of the fifty50foundation posted. "Your big sis, big bros, and momma and daddy love you to the moon and back. happy birthday Arrayah Sue."
Arrayah was the youngest of Barrett's children with whom he shares his wife Jordanna Barrett. In addition to Arrayah, Jordanna and Shaquil are parents to Shaquil Jr., Braylon and Aaliyah.
Shaquil and Jordanna were high school sweethearts and earlier this year, the couple celebrated 11 years of marriage.
Our deepest condolences to the Barrett family.
Photo Credit(s)/Featured Image: Tampa Bay Buccaneers Twitter; Shaquil Barrett Instagram