Coming home is the best part of life for Usher. The recording artist, whose 2023 Las Vegas residency dates were announced earlier this year, recently shared pictures of him enjoying parenthood with social media fans.
"Two out of four reasons I do it for LOVE," Usher said of the photos, which featured his youngest children, Sire Castrello and Sovereign Bo. "Daddy's home," Robin Thicke wrote in the comments section of Usher's Instagram post.
"I love how celebrity little ones have no concept or concern that their parent(s) are celebrities," another supporter said. "They just love having fun with and being loved on by famous mommy and/or famous daddy," the social media follower added.
Usher is presently leaving his mark in Nevada with his Usher My Way: Las Vegas Residency. The recording artist is presently slated to perform in Sin City from March through July. Usher, who has been in the music industry for 30 years, recently shared what he hoped to bring to the stage during his 2023 residency.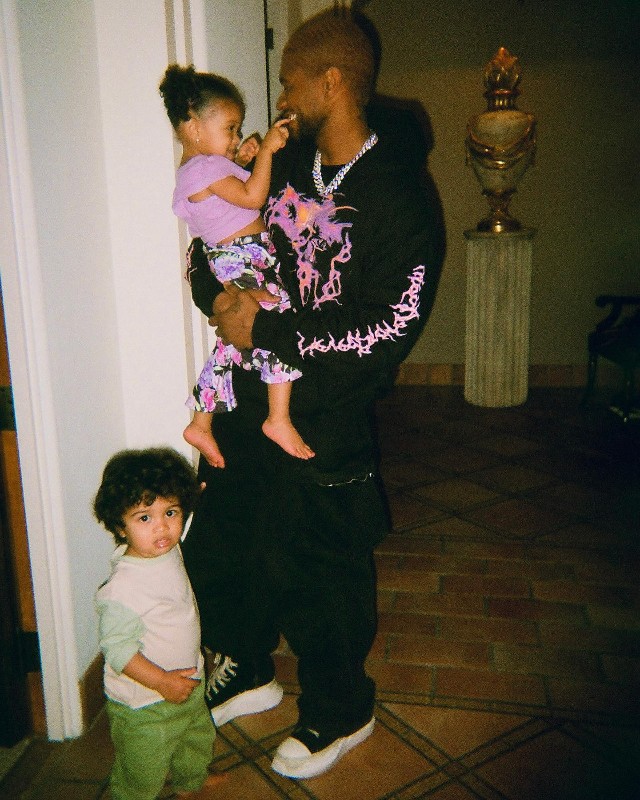 " I think consistency is the one thing that I would hope for," the artist told BET. "And that's a luxury of having a residency – that I can now become a little bit more consistent in my flow of how I manage my life," Usher shared.
"I love being able to be in one place for a specific amount of time, being able to build in Las Vegas," the 'Yeah' singer continued. "I think that there are so many incredible things that are happening in Las Vegas, rather, I am a part of them, or rather I'm a part of just instigating them. I feel an energy coming to the city that hasn't been there before, or maybe it was there at some point, but now it's coming back in a major way."
Some recording artists prefer touring over residencies. Usher, however, leans more towards the latter.
"I think that residency has worked better for me than anything," the singer shared. "Don't get me wrong, I love touring, but maybe in the future, maybe what I'll do, and I don't want to get ahead of myself in saying this, but if I'm able to spend stints of time in places; one, I get a chance to stabilize my life; two I have a chance to really stay connected to my children; and three, most importantly, I get a chance to enjoy being there," Usher explained.
"Let's say I decide to go into a foreign country and I got to tour all around, right? One, I've got soundcheck and I got radio or these obligations for interviews, so I don't get a chance to really enjoy the place that I'm at," the recording artist further elaborated. "But to be able to go places and sit down, set up your situation, and spend a nice amount of time in residency there – that to me is working more for me. It's making me a better parent. It's making me a better man. It's making me a better businessman, and allows me to really enjoy [it]."
Sire and Sovereign are Usher's kids with his girlfriend, Jenn Goicoechea. The recording artist has two older sons, Usher V and Naviyd, with his first wife, Tameka Foster.
Photo: Usher/Instagram