H.E.R. (real name Gabriella Wilson) gave a few dreamers at the 16th Disney Dreamers Academy the surprise of a lifetime during one of their Deep Dive sessions last week. The recording artist presented the kids in her group guitars, which she autographed in front of them.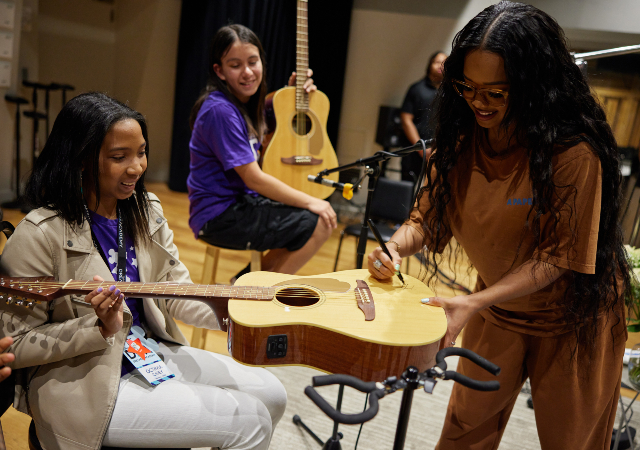 Photographers captured the special moment, which rendered some kids nearly speechless. Other recipients smiled while interacting with Wilson.
The Disney Dreamers Academy is a four-day training session meant to empower 100 kids to pursue their passions. Some children selected for the experience come from underprivileged communities, which makes the opportunity even more special.
H.E.R. joined Halle Bailey and other leading professionals at this year's Disney Dreamers Academy. It was just a few months ago that the recording artist, who rose to fame in 2009 after participating in Radio Disney's Next Big Thing, explained her decision to start using her birth name alongside her stage name.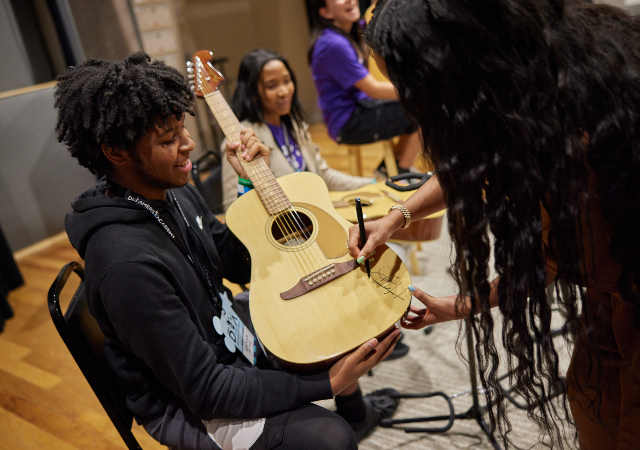 "I've been re-finding my voice," the Beauty and the Beast star shared during an appearance on Good Morning America. "Now I'm not wearing glasses," she continued.
"I can't be acting and wearing glasses, so I think it's time for people to really get to know the person behind H.E.R.," the entertainer shared. "H.E.R. is me, but at the same time it's a new chapter of my life," Wilson explained. "I think I'm really finding that connection and I'm allowing people to see under the layers a little bit."
Gabriella Wilson was the leading character in the ABC special of Beauty and the Beast, which aired last December.
"I never thought I could be a Disney princess," H.E.R. said of her role in the project. "Of course every little girl wants to be a Disney princess, but I've never seen one that looks like me — so I get to be that to little girls now."
The 16th Disney Dreamers Academy began on Thursday, March 23, 20223, and concluded with a commencement ceremony on Sunday, March 26, 2023. Learn more about the Dreamers Academy here!
Photo: Disney Dreamers Academy