Vanessa Bryant and her girls are enjoying the newest member of the family. The celebrity mom took to Instagram on Wednesday (Mar. 9) to announce the arrival of her German Shepherd, Loki.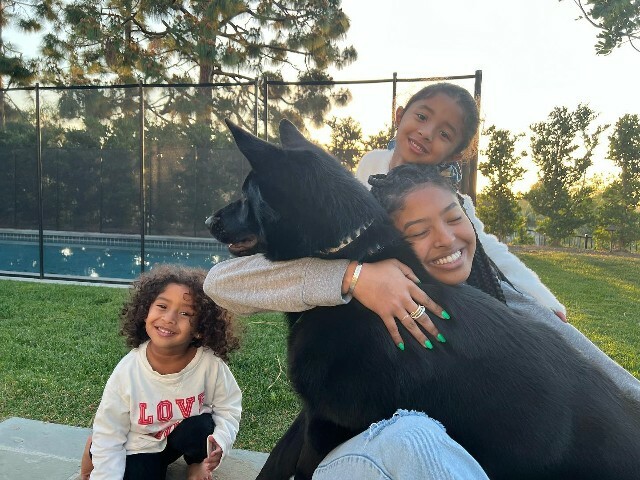 "My girls are happy," Vanessa told her social media fans. "Big Boy~ Loki," the celebrity mom said of the family's new pet.
Loki comes to the Bryant home after the death of the family's former dog, Crucio. Vanessa took to Instagram to pay tribute to Crucio earlier this year. "We love you, Crucio," the celebrity mom wrote online. "Thank you for everything sweet boy.'
https://www.instagram.com/p/Ca6ComvLwdp/
Natalia Bryant also took to Instagram to express sadness over the passing of Crucio. "I truly have no words except for the fact that Crucio was the best dog I could have ever asked for," the young adult said. "To the most handsome, loving, selfless, and brave dog- you will forever be missed," Natalia wrote to Crucio.
Several of Natalia's Instagram followers gave their support to Natalia during her time of grief. "To the sweetest boy, Crucio we love you," Candace Parker shared in the comments section of Natalia's post. "Nani, send love to you," Parker added. "I'm so sorry my love," Aoki Lee Simmons said. "He loved you the most possible, I know."
Just as social media gave support during their loss, supporters were also happy to see the Bryants embrace the newest member of the family. "He's so handsome," one fan said after seeing a picture of Loki with his family. "And looks so happy," the Instagram follower added. Another fan said, "He's adorable."
https://www.instagram.com/p/CYe_mhjPu0-/
Loki joins Bianka and Capri at home. Natalia Bryant is presently a student at the University of Southern California (USC) where she shares living quarters with actress Storm Reid. Instagram fans can look forward to seeing many memories made with Loki.
Photo: Vanessa Bryant/Instagram