Writer/producer Shonda Rhimes has captured the imagination of millions with her ground-breaking television shows and streaming series. Now, she is helping to inspire young girls to dream big with her very own Barbie Doll. Mattel has added a Shonda Rhimes Barbie Doll to their latest collection, and it is beautiful!
Rhimes did an impromptu photo shoot with her mini-me in celebration of International Women's Day, when her doll was officially launched. She posted, "Happy #InternationalWomensDay! Beyond grateful to be honored alongside a group of kickass women! HUGE thanks to @wesgordon for allowing the dress to be replicated and @Barbie for the opportunity. Love this doll so much I had to have an impromptu photo shoot!"
Rhimes' doll is a part of the "Barbie Role Models" collection. The goal of this collection is to inspire "the next generation of female leaders…by shining a light on women who are leaders in their in their respective industries of tech, wellness, STEM, education and more with one-of-a-kind Barbie dolls in their likeness."
"We know that children are inspired by what they see around them, which is why it's so important for young girls to see themselves reflected in role models who've daringly pushed past roadblocks and overcome the Dream Gap to become the brave women they are today…" Senior Vice President and Global Head of Barbie and Dolls for Mattel Lisa McKnight said in a statement.
She continued, "This International Women's Day, we're proud to honor 12 global trailblazing women to help empower the next generation of female leaders by sharing their stories."
The "Barbie Role Models" collection initiative will working together as part of the Barbie Dream Gap Project. The Barbie Dream Gap Project began in 2018 and seeks to help bridge the gap between girls and their male counterparts, ensuring that young girls all over the world see themselves outside of cultural stereotypes and reach their full potentials.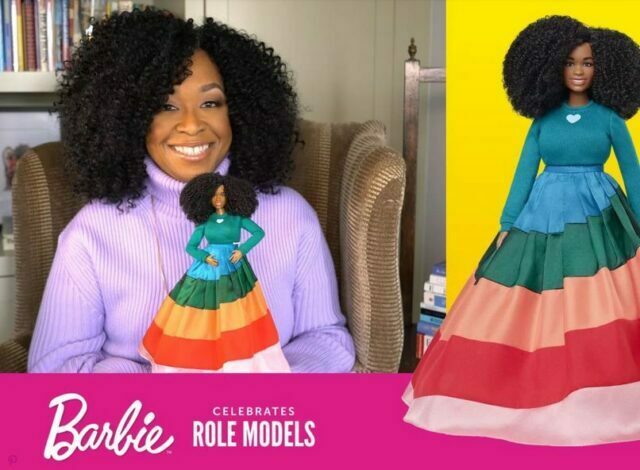 "I thought partnering with Barbie to create a doll was an amazing opportunity to present just a different image of what a woman could be. We obviously can be anything. We obviously can look any way. We can all be strong and smart and powerful and run our worlds in any way we want to — whether you're a mom or an astronaut or a television showrunner," Rhimes said in a recent interview with Essence Magazine as to why she partnered with Barbie and their initiatives.
She continued, "I loved the idea of presenting this vision that was who I was. It never in my whole life occurred to me that I would ever be a doll growing up. That to me was a mind-blowing concept when they even came to me. To be able to present that image to another young girl who doesn't necessarily see people who look like her is wonderful and exciting and I'm thrilled to be able to do it."
The "Barbie Role Models" collection isn't the only amazing collection that Mattel has out on the market. If you remember, they recently released the "Inspiring Women Line" that features Maya Angelou, Rosa Parkes, Ida B, among others. Wells. Mattel is truly spreading #blackgirlmagic all around.
If you are ready to add the Shonda Rhimes Barbie doll to you collection, click here!