Chad "Ochocinco" Johnson is convinced that his daughter, Serenity (Hurricane) Paula Johnson, is his carbon copy. The celebrity father recently took to Instagram Stories to dote on his little one.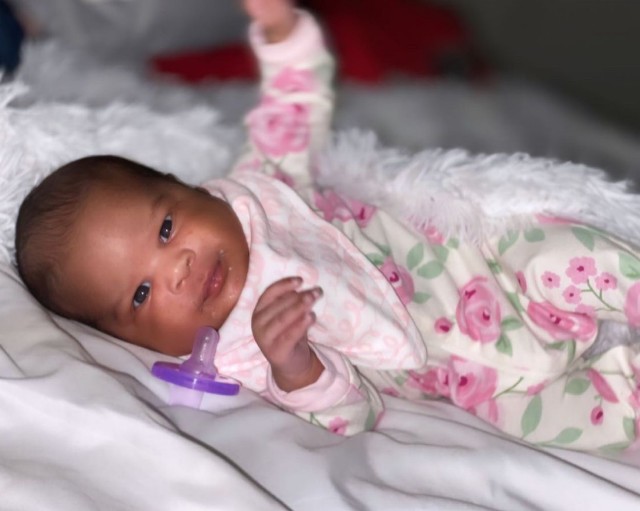 "Definitely don't have to go on Maury," Chad mused in reference to the talk show that earned much of its notoriety from paternity segments. "She looks just like daddy," one social media fan said in reference to another candid shared on Johnson's Instagram page. "She looks like her mother," another social media follower shared along with heart-eyed emojis.
Chad Johnson and his girlfriend, Sharelle Rosado, welcomed their daughter at the beginning of the year. The celebrity couple shared their joy about the impending arrival of their little one with PEOPLE weeks before Serenity's birth.
"It was shocking. I think I was crying and laughing at the same time," Sharelle told the media source. "I just can't wait," the real estate professional continued. "It's actually going by so fast. I found out I was pregnant while we were filming, so time is flying. It doesn't even seem like it's been that long."
Serenity made her dad a father for the eighth time and her mom a parent of four kids. "I always wanted a big family," Rosado told PEOPLE last year. "So I think with this last one, she's just the perfect number to finish it off," the celebrity said.
Sharelle filmed her reality show, Selling Tampa, while pregnant. "While we were filming, there were times when the ladies were enjoying themselves, having fun, drinking," Rosado said regarding celebratory scenes on the show. "In the blink of an eye, you just had to cut off everything because now you're pregnant," the Allure CEO added.
"Alcohol is not something that I really need," Sharelle went on to say regarding her life changes due to expectancy. "If I want to feel like I am with them, I'll just get Sprite," Rosado said. "Make it look like it's champagne, something bubbly … then I feel included."
Photo: Instagram