Some parents give their kids a car along with a big party in celebration of the Sweet 16 milestone. Rick Ross gave his son, William Roberts, a Wing Stop franchise for his sixteenth birthday.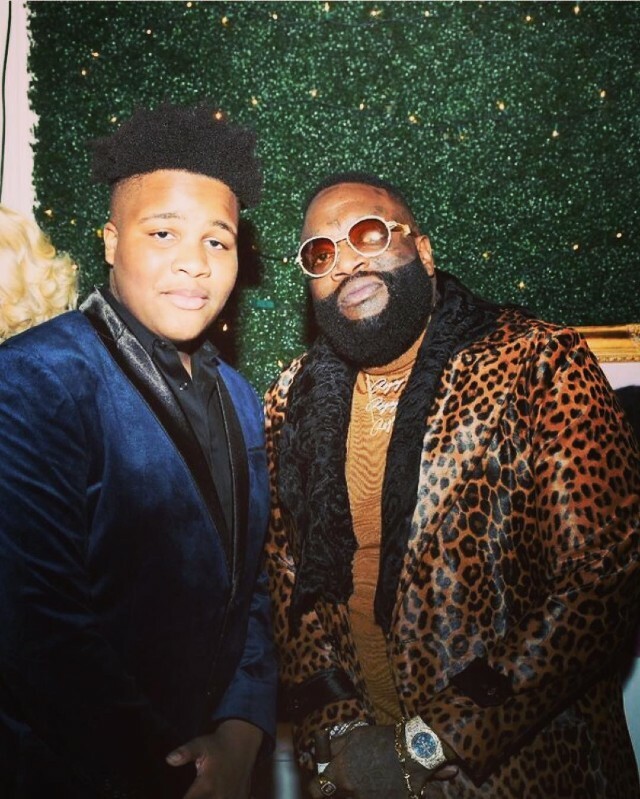 Ross took to social media on Tuesday (Sept. 14) to commemorate his son's birthday as well as to announce William's entry into the restaurant business. "Everyone wish my son @mmgbigbank HAPPY 16th BIRTHDAY," Rick told his Instagram fans. Today he became the owner of his first @wingstop franchise," the veteran producer shared. "You're now officially a BOSS," Rick told his son. "Keep Going."
William Roberts is an owner both on and off the football field. The St. Thomas Aquinas football player recently scored his first scholarship offers because of his impeccable athletic skills. Both Miami and Syracuse expressed desires to recruit William, who graduates from high school in 2024, for their teams.
"It feels good," William recently told 247 Sports. "It's a dream come true," the young athlete added. St. Thomas Aquinas head coach Roger Harriott also commented on Rick Ross' son and his skills on the football field.
"Will's size, strength, and athleticism have enabled him to play some quality time this season and start a couple of games," Harriott shared with 247Sports. "He's an extremely talented player and a well-rounded, character-oriented person," Roberts' coach continued. "His best days are ahead of him."
William has, of course, not agreed to attend either Miami or Syracuse. In fact, the scholarship offer remains verbal. The teen, however, has a good chance of receiving more offers in the future as Roberts played on the varsity team at St. Thomas Aquinas during his freshman year. The team went 8-1 and won a 7A state title.
Regardless of whether he chooses to continue in the way of sports as a career, William has many options in his path that could all lead to success. "You're as real as they come," the teen's dad recently told him.
Photo: Rick Ross/Instagram