Safaree is in the hot seat again after last night's episode of Love and Hip Hop: Atlanta (LHHATL) showed him laughing at his and Erica Mena's baby girl, Safire Majesty, after the little one took a tumble in his home studio.
The scene began when Erica came into the room to tell Safaree about her doctor's visit. "You look pregnant, but you still look small," Safaree told his wife. "Well, I've been working out consistently," Erica responded. "I feel like it makes me feel a lot better just in general," she added.
Mena told Safaree about her doctor's visit and how she discussed his reaction with Dr. Jackie. "She said, 'Well when I told you, you stared at me for ten minutes.' And that's when it hit me. I have to be realistic about it because I was in shock," Erica told her husband.
"Forgive me because I know I've been putting the pressure on you a little bit on your reaction," Mena admitted to Safaree. "But I still want you to understand where I'm coming from. You've definitely neglected me the first few months of her (Safire) being here."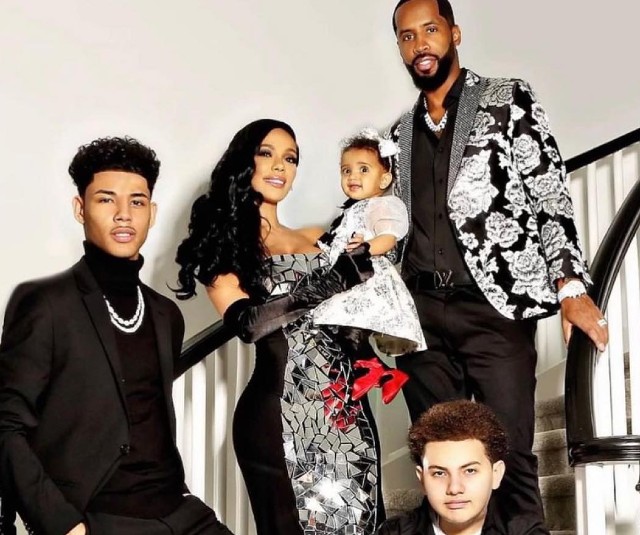 Safaree explained that his neglect was because he needed sleep. "I need to sleep too," Erica said in response to her spouse's defense. "I'm breastfeeding. I just gave birth. Do you know how much energy leaves the woman's body after labor?"
Erica told Safaree that she wanted him to be more involved with his family on a regular basis. "I just want you to step up to the plate and understand that this is your life. You have to be serious. You are a married man, you have a baby already, and you have another one on the way."
Mena had just enough time to share the gender of their unborn child before Safire took a tumble along with Safaree's guitar. Erica picked up the guitar, which fell on top of Safire, and expected Safaree to console their daughter. Safaree instead laughed at the situation while leaving Safire on the floor.
"Safaree, pick her up you freaking idiot," Erica said with anger. "Like, what's your problem," Mena asked her husband. "She's fine," Safaree told his wife. "When she's in here with me by herself this don't (sic) happen." Erica asked Safaree why he laughed at Safire's fall. "It was funny," the celebrity father said.
"This moment is probably setting me up to get ready for what my life is about to be," Erica said during her post-episode interview segment. "Me having to hold down my babies by myself even when they're hurting, because daddy finds it to be funny. It just proves how immature he is."
Several social media fans agreed with Erica and were not afraid to make it known. "No fatherly instinct," one LHH Instagram follower wrote after watching the segment. "So sad it's not even funny at this point," the fan added. Another critic wrote, "This disturbs my spirit."
Erica Mena gave birth to her and Safaree's son, Legend Brian Samuels, last month. The newborn came home a few days ago after spending time in the NICU. Catch Safaree and Erica Mena's story every week on Love and Hip Hop: Atlanta.
Photo: Safaree/Instagram