Yesterday, Zonnique Pullins and boyfriend Israel "Bandhunta Izzy" James introduced the world to their little cutie, Hunter Zoelle James. Today, the celebrity mom is hilariously defending her belief that her baby girl looks just like her.
"Y'all ain't bout to tell me this baby don't look like me after I spent 9 months baking her a*s to perfection," Zonnique tweeted. The recording artist wrote in response to dozens of Twitter users who suggested Hunter looked more like her aunt, Heiress, and uncle, Major.
y'all ain't bout to tell me this baby don't look like me after I spent 9 months baking her ass to perfection 😅 pic.twitter.com/hkQaIeAhhM

— baby spice (@Zonnique) March 29, 2021
"She looks like Heiress and Major," one fan tweeted in response to Zonnique's tweet. "Sorry, babe," the social media follower wrote. Another of Zonnique's Twitter supporters wrote, "I saw the baby and immediately thought that Tiny had had another baby while I wasn't paying attention. This is literally Heiress/Major all over again."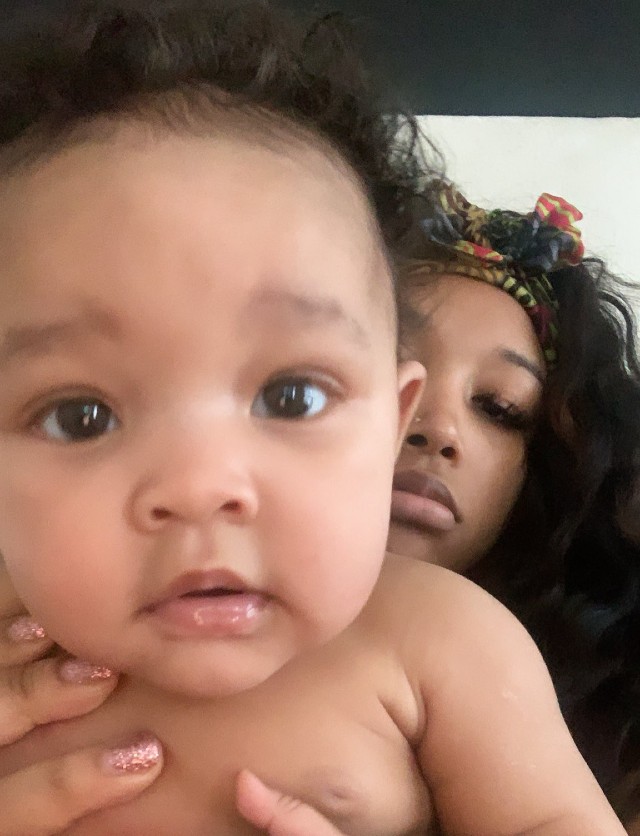 Zonnique and her boyfriend welcomed their daughter last December. The celebrity couple did not go public with their daughter's name until last month. Zonnique and Israel gave fans a first look at their baby girl on Sunday (Mar. 28) in honor of Heiress's birthday celebration that began last week and lasted through the weekend.
In the candid, Heiress kissed her niece as Hunter rested on the sofa. Another picture was more of a throwback photo, which featured Heiress feeding a younger Hunter. "KODAK Moment," one social media wrote in response to Heiress and Hunter photographed together. Several others shared emojis that indicated their love for the Instagram post.
Tiny Harris doted on her granddaughter on Sunday while sharing a video clip of the little one with her aunt. "Let me tell you … this child of mine is me, me, me," Tiny exclaimed. "Everything about this makes me smile," the celebrity grandma said her daughter and granddaughter bonding. "I got the sweetest Gbaby I could ever ask for," Tiny told her social media fans. "That name though," the celebrity added. "Hunter, it's everything."
Hunter is Zonnique Pullins and Israel "Bandhunta Izzy" James's first child together.
Photo: Zonnique/Instagram