Dondre Whitfield and Salli Richardson-Whitfield celebrated their son Dre Terrell Whitfield's twelfth birthday earlier this week. The celebrity parents went all out to make their tween's special day monumental.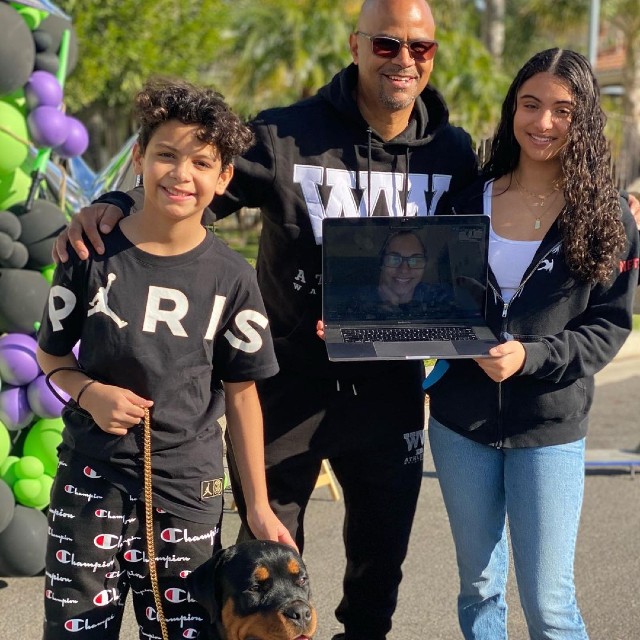 Salli could not be physically present at her son's birthday bash. The celebrity mom, however, made her presence known by way of a virtual session with Dondre and the kids.
"Thank God for technology," Richardson-Whitfield told her social media fans. "I'm like a mom from the future who is an AI," the celebrity mom mused. "I couldn't be at my baby's 12th birthday in the flesh but we figured something out. I'm the computer on the bottom. I can't tell you how much I love this boy. Both of these children fill me with overwhelming pride."
Salli Richardson-Whitfield is away from home on business. The director recently signed a two-year deal with HBO that involves both developing and directing projects. Richardson-Whitfield will executive produce the upcoming drama The Gilead Age as well as direct two episodes of Adam McKay's untitled project based on Jeff Pearlman's book Showtime: Magic, Kareem, Riley, and the Los Angeles Lakers Dynasty of the 1980s.
Richardson-Whitfield explained what she enjoys most about directing during an interview with The Shadow League in 2019. "I think I like the control," Salli shared. "It's just a different kind of creation because I'm molding the acting, I'm modeling the look, I'm molding the tone of the pieces, and it's just a big responsibility. Not necessarily something I knew. I didn't know that I had this eye and a vision for film."
Both Salli and Dondre Whitfield certainly had an eye and vision for their son's birthday bash. The celebrity parents gave their tween a drive-by party that managed to have a theme despite the conditions that prevented guests from gathering and mingling indoors.
"My boy Dre has turned 12 and I can't even take it," Dondre Whitfield told his social media fans. "He's so many things—funny, smart, kind, and loving," the celebrity father doted. "This drive-by bday party, while we missed mom who's out of town working hard, @cairoscustomevents helped us have something memorable."
Salli Richardson-Whitfield and Dondre Whitfield have two kids, Dre and Parker, together. Dre is the couple's youngest child.
Photo: Dondre Whitfield/Instagram