Patrick Mahomes, the quarterback for the Kansas City Chiefs, can't wait to be a father. Mahomes and his fiancée Brittany Matthews, recently announced on Instagram that they were having a baby together. On Tuesday, September 29, Brittany posted a picture of herself and Patrick holding a sonogram of their unborn baby. She captioned the photo: "Mom & Dad, taking a small detour to the wedding❤️."
In a recent interview with 610 Sports Radio's The Drive, Patrick Mahomes discussed how excited he was to welcome his new baby. When asked if he preferred the baby to be a boy or a girl, Mahomes said: "No, I'm just super excited to hopefully have a healthy baby and someone I'll be able to love for the rest of my life."
Patrick Mahomes was also asked about what he learned about his "growth and maturity on a personal level" during the year, to which he responded: "I think it's just about growing up, about having the responsibility and really just evolving as a family. I think that we've done that — me and Brittany, and the people around me — and I'm just excited for the future ahead of being able to keep building and keep becoming a better person for my family and this world."
Patrick Mahomes may only be 25-years-old in his third NFL season, but his accomplishments already rival those of Hall of Famers. He was drafted by the Chiefs as the 10th pick in the 2017 NFL Draft, and in 2018, his first full year as a starter, he threw for 5,097 yards and 50 touchdowns to win the 2018 NFL MVP (Most Valuable Player) award.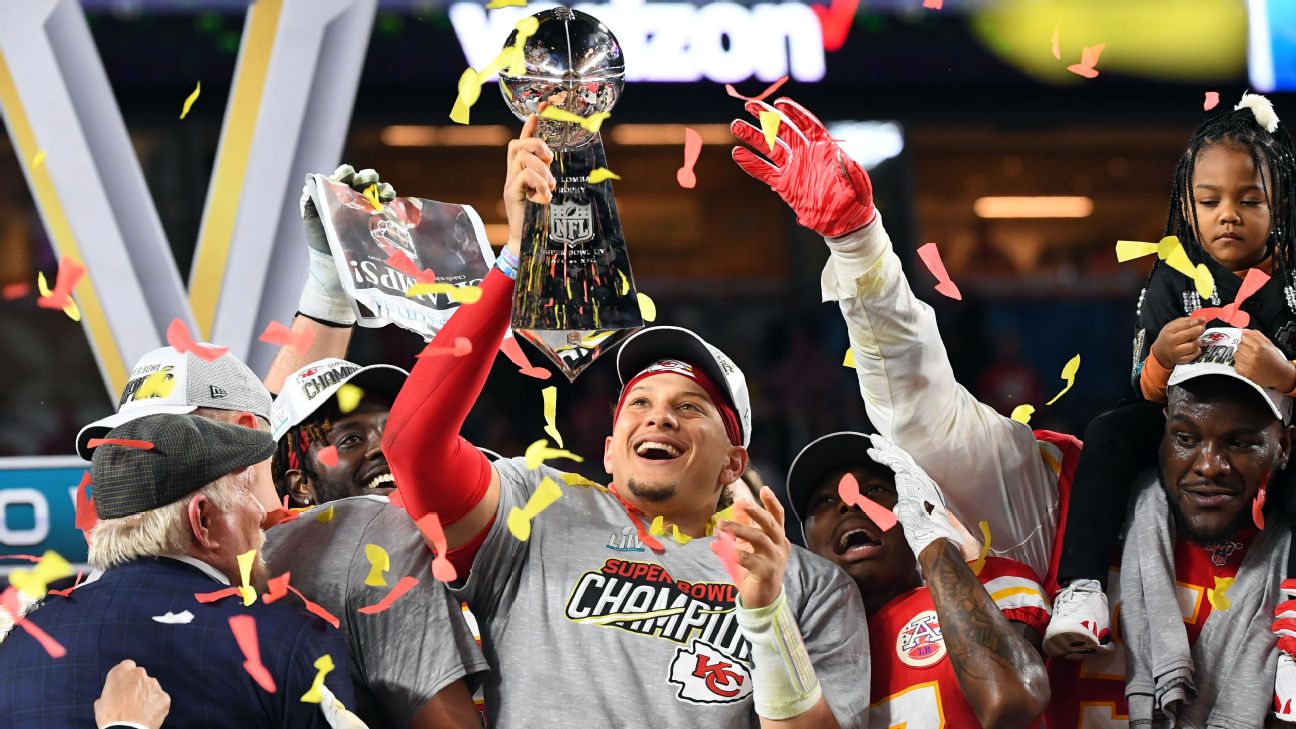 In the 2019 season, Patrick Mahomes took his game to the next level and led his Chiefs to Super Bowl LIV, where they rallied from a 20-10 deficit to defeat the San Francisco 49ers 31-20. For his efforts, Mahomes was given the Super Bowl MVP award and during the offseason in July, Mahomes made history by signing with the Chiefs for a 10-year, $503 million contract; the largest contract for an athlete in the history of sports.
On September 1st, Patrick Mahomes received his Super Bowl LIV Championship ring, but he wasn't the only one getting a ring that day. Following the ceremony at Arrowhead Stadium (where the Chiefs play), Mahomes proposed to Brittany, his high school sweetheart, presenting her with a beautiful diamond ring. Now the happy couple is eagerly awaiting the arrival of their new baby.