Usher an his girlfriend Jenn Goicoechea have welcomed their first child together. The singer announced the baby news on his Instagram saying, "We are feeling blessed and full of love with the arrival of our beautiful baby girl, Sovereign Bo Raymond. "Isn't she lovely" by Stevie Wonder on repeat."
Earlier this month, Raymond made an appearance on The Late Late Show with James Corden where he confirmed Jenn's pregnancy. He then hilariously brainstormed potential baby names.
"Not like George Foreman — I can't name all my kids George," joked Usher, referring to the legendary boxer who named all five of his sons after him. "If it's a girl, I don't think that Usher would flow well," he quipped. "To be perfectly honest, I'm trying to figure out which way to go. I got a few names in line, but maybe you can help me — give me some suggestions," said Usher.
James Corden didn't hesitate, suggesting: "I think you go Dave," which drew laughs from the crew off-camera. "Honestly, but not David, Dave. Dave Raymond. I honestly think Dave Raymond… he can get you stuff. Do you know what I mean? Dave Raymond knows a guy who knows a guy. He can sort you out," said Corden.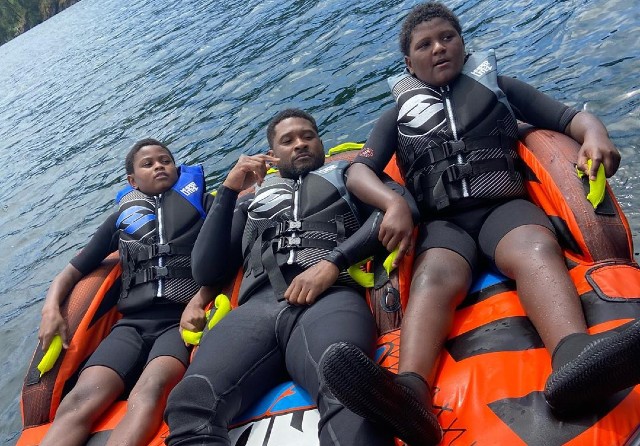 Usher and Jenn Goicoechea's child makes him a father for the third time. Usher also has two sons, Naviyd and Usher V, with his ex-wife, Tameka Foster.
During a recent interview, Usher said his kids come first. "I'm a dad, first and foremost," Usher shared. "Of course, I have to travel and make a living, but my sons are my priority," the celebrity father said. "I never knew I could be so happy just hanging out with them. I was born for this."
Congratulations to the couple!