20-year-old Iyanna "Yaya" Mayweather, the eldest daughter of boxing legend Floyd "Money" Mayweather, has seemingly confirmed that she is pregnant after she showed off her baby bump while dancing with her 16-year-old sister Jirah Mayweather on TikTok.
The video was quickly deleted, but not before it was downloaded and shared by many people. In the video, Yaya is wearing a black t-shirt which makes it hard to see the baby bump, but it is indeed there.
Floyd Mayweather had Yaya with television star Melissa Brim. He had Jirah and her elder brothers, 20-year-old Koraun and 19-year-old Zion Mayweather with his late ex-girlfriend Josie Harris. Yaya's upcoming child will be Floyd Mayweather's first grandchild.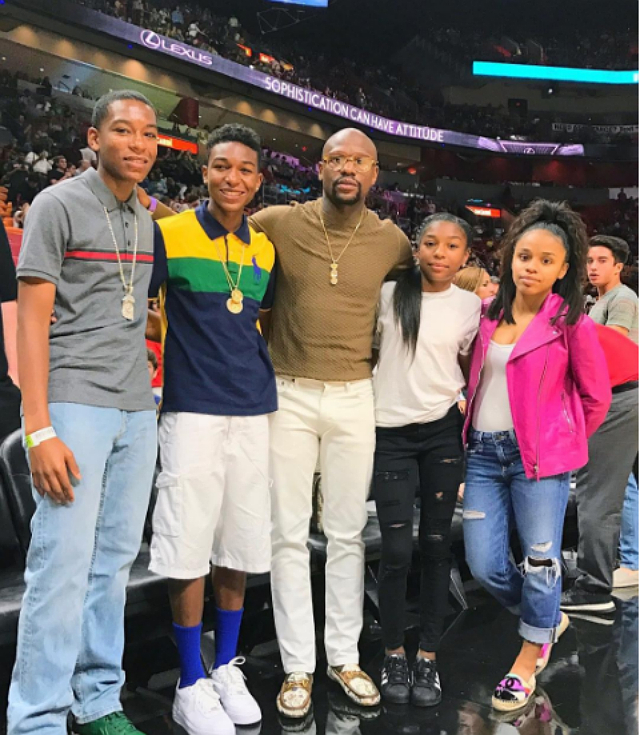 Yaya Mayweather has had an on-again-off-again relationship with rapper NBA Youngboy, and it is widely assumed that she is pregnant with his child. That would make Yaya's unborn baby NBA Youngboy's seventh child, as he already has six children with five different women despite only being 20-years-old. NBA Younboy has a bit of criminal history, which wasn't helped by his September 28 arrest on drug charges.
On April 4, Iyanna Mayweather was arrested and charged with felony assault with a deadly weapon after allegedly stabbing Lapattra Jacobs, one of NBA Youngboy's baby mamas. Yaya was later released on a $30,000 bond, but if convicted, she could face up to 99 years in prison.
Many fans have taken to social media to express their disappointment with Yaya Mayweather being pregnant with NBA Youngboy's child, as well as criticize her actions despite having a rich and famous boxer for a dad. One user said: "Yaya Mayweather a fool.. ain't no way my pops worth millions of dollars and I'ma settle to be a seventh BM." Another user said: "Yaya is Floyd Mayweather's daughter & decided to stab someone & get pregnant by a man with several girlfriends & several baby mothers… I'm just not understanding."
Yaya Mayweather a fool.. ain't no way my pops worth millions of dollars and I'ma settle to be a seventh BM. 😭😭😭

— G ⚜️ (@SimplyGanae) September 29, 2020
Yaya is Floyd Mayweather's daughter & decided to stab someone & get pregnant by a man with several girlfriends & several babymothers…. I'm just not understanding.

— Angela (@YeahiHateYou) September 27, 2020