On September 10, former NBA star Pau Gasol and his wife Cat welcomed their firstborn daughter into the world, naming her Elisabet Gianna Gasol in honor of the late Gianna "Gigi" Bryant, daughter of the late NBA icon Kobe Bryant. Pau and Cat took to social media to announce the news, and no one was happier for them than Vanessa and Natalia Bryant, Kobe's wife and eldest daughter.
On his Instagram, Pau Gasol posted two sweet pictures of himself, Cat, and their new baby girl. He captioned the post: "Our little one has finally arrived!! The delivery went really well and we couldn't be happier!! Elisabet Gianna Gasol 😍, a very meaningful name for our super beautiful daughter!! ❤️👨‍👩‍👧 #girldad."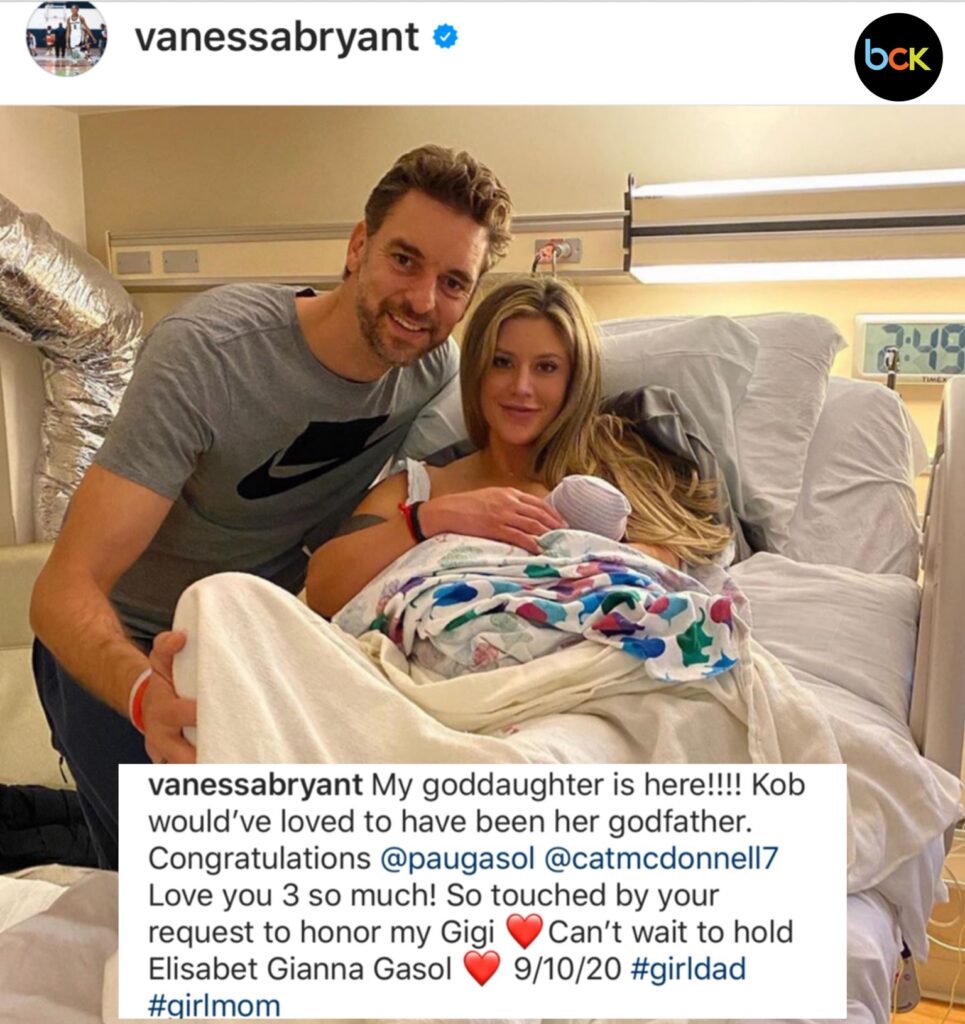 Natalia Bryant celebrated Elisabeth Gianna's birth, writing under the same photo of the Gasol family, "Forever God Sisters." In the comment section of Pau's post, Vanessa Bryant wrote: "Love you 3!!! Congratulations!! ❤️." She also celebrated Elisabet Gianna's birth with a post from her private Instagram, thanking Pau and Cat for honoring Gianna and confirming that she is Elisabet Gianna's godmother. It reads: "My goddaughter is here!!!! Kob would've loved to have been her godfather. Congratulations @paugasol @catmcdonnell7 Love you 3 so much! So touched by your request to honor my Gigi ❤️Can't wait to hold Elisabet Gianna Gasol ❤️ 9/10/20 #girldad #girlmom."
Pau Gasol and Kobe Bryant and played together on the Los Angeles Lakers for six years, winning two NBA championships together in 2009 and 2010. Kobe and Pau remained close friends even after Pau left the Lakers in 2014 and Kobe's 2016 retirement, and as such, he was devasted upon hearing the news about Kobe and Gianna's tragic death in January 2020.
Pau and Cat Gasol have been especially close to the Bryant family and have supported them through their pain and grief, treating Vanessa Bryant as their sister and referring to her and Kobe's daughters, 17-year-old Natalia, 3-year-old Bianka, and 1-year-old Capri Bryant, as nieces. In fact, the Gasols and the Bryants recently enjoyed a boating trip in August.
Elisabeth Gianna Gasol's birth comes almost eight months after her namesake Gianna and her father Kobe Bryant, along with Alyssa, John and Keri Altobelli, Payton and Sarah Chester, Christina Mauser, and pilot Ara Zobayan were tragically killed in a helicopter crash on January 26, 2020. Gianna was 13 and Kobe was 41 when they passed. Gianna and Kobe are survived by Vanessa and daughters Natalia, Bianka, and Capri Bryant.