As Jada Pinkett Smith's romantic past and present is front-and-center in the news again, so is a letter that dates back to over 10 years, that her 19-year-old daughter Willow Smith wrote to famed late rapper Tupac Shakur, begging the rapper to come back to her mother.
According to the news website Colorlines, Smith shared the letter online in 2012 when she was 11-years-old, yet, in a now deleted Instagram post, the young star captioned that she wrote the letter "years" earlier.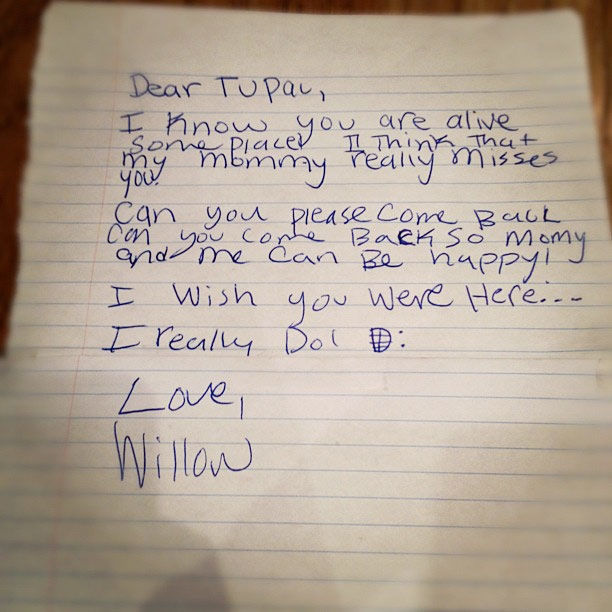 The letter reads, ""Dear Tupac, I know you are alive someplace. I think that my mommy really misses you. Can you please come back[?] Can you come back so mommy and me can be happy! I really wish you were here… I really do! Love, Willow."
If you remember, young Shakur and Pinkett Smith were extremely close after meeting at the Baltimore School for the Arts.
📸: Tupac Shakur and Jada Pinkett at a high school in Baltimore Maryland, Picture taken in the 1980s. pic.twitter.com/Ryau878DNt

— 🌍🔍 (@historyintwits) July 17, 2019
"As soon as he approached me, he was like a magnet," Pinkett Smith said in an old interview about Shakur. "Once you paid attention to him he kind of sucked you in. And we hit it off from that moment on…I don't think either one of us thought we would have made it in the way that we did, but we knew we were gonna do something."
Smith himself admitted that Pinkett Smith and Shakur had a special relationship. He said in an interview with The Breakfast Club, that Pinkett Smith has always loved Shakur and considered him "the image of perfection." Smith also explained that, "They grew up together and loved each other but never had a sexual relationship. But they had come into that age where now that was a possibility, and then Jada was with me, so Pac had a little thing on that."
In an old poem, Shakur called the Red Table Talk host his "heart in human form." And of course, Pinkett Smith has continued to keep Shakur's memory alive, admitting that she thinks about him "every single day."
How do you weigh in? Sound-off, we want to hear from you!