Saint West is convinced that his mom, Kim Kardashian, is only 11-years-old. Kim recently shared a Mother's Day card from her oldest son in which he revealed his belief about his mom's age.
Saint filled in the blank when the card asked for his mom's age. There was no evidence of the youngster second-guessing his first response, which further solidified the notion of Saint truly believing that his mom was only a few years older than himself.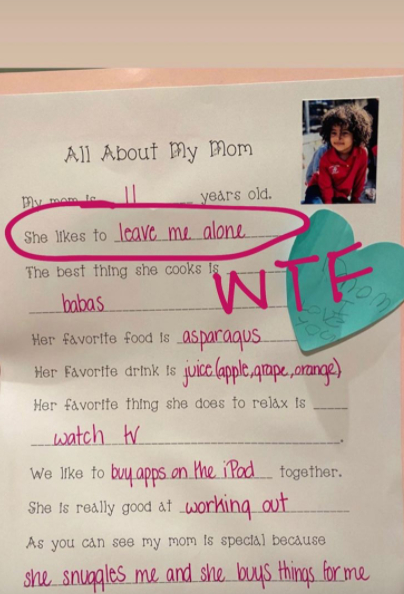 Kim Kardashian learned a few other things from Saint's Mother's Day card. The youngster expressed his belief that his mom loves to leave him alone. Saint ultimately contradicts himself with such a claim at the end of the card when he revealed that his mom loves to snuggle and shop with him.
"Best thing ever," Kim wrote in response to her son deeming snuggle time as her favorite moments with him. The Keeping Up With The Kardashians (KUWTK) star crossed out the latter part about shopping and jokingly wrote, "He got this right for sure."
Kim Kardashian has found various ways to maintain balance during quarantine season. It was just a few weeks ago that the KUWTK star tried to conduct a makeup tutorial without her kids. Kim told her social media fans that she was filming from the bathroom in the guest room because her kids would not leave her alone. North West, Kim's oldest daughter, heard her mother's comments and said, "Hey! That's mean." Kim could not hold her frustration in the moment.
Kim Kardashian and her husband, Kanye West, have four kids together. Stay tuned for more Keeping Up With The Kardashians family news!
Photo: Kim Kardashian/Instagram