Friends, forever! North West and Penelope Disick were recently photographed while enjoying a play date together.
"BFF'S," Kim tweeted. The celebrity mom also shared pictures of North and Penelope hanging out that garnered more than 100,000 likes in less than 24 hours. Ryan, Kanye West's PR rep Tracy Nguyen Romulus' daughter, joined North and Penelope for a day of fun.
Kim Kardashian took to her website to open up about the joys of parenthood earlier this week. "I have such unconditional love for my kids," she wrote online. "No matter what, I will always love them and support them in anything they choose to do in life."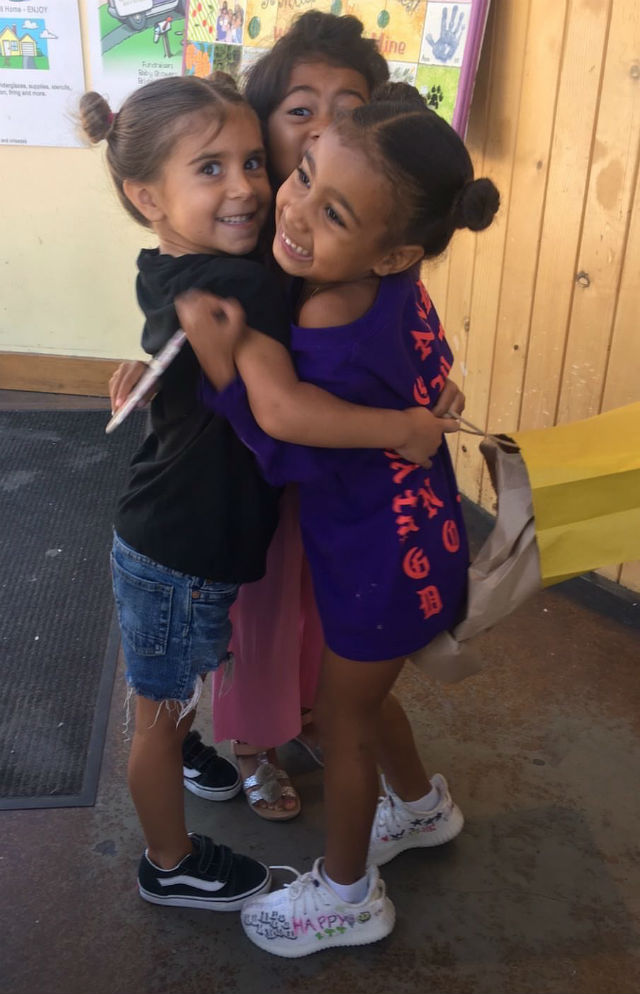 "Anything" includes following in her footsteps as a cosmetics brand owner. Kim recently launched her latest KKW Beauty line that focuses on minimalism and quality.
"We have been doing this, or formulating it, for quite a while now," Kim told ELLE of her brand's development. "It's hard when you know you have something else coming out, so I wrote a little teaser card to everyone saying that I had a surprise coming. I think they thought it was another collab. I don't think they thought it was my own line, on my own without Kylie. So that was really exciting to everyone."
Equally exciting is North's fascination with her mom's makeup. "She loves brighter colors and she wore a purple lipstick [on her birthday]," Kim revealed. "She came in the room yesterday with one of Kylie's blue lip kits from the Fourth of July—all over her entire face. And I was freaking out. She looked like she had chicken pox. She did little dots everywhere, like chicken pox, but covered in blue. And it was just really hard to get off!"
North West is Kim Kardashian and Kanye West's oldest child. The celebrity couple also has a son named Saint who celebrates his second birthday in December. Learn more about Kim Kardashian's KKW Beauty line here!