Eighteen-year-old Amandla Stenberg is more than just a talented actress and model. She is one of those rare human beings that comes along once in a lifetime and takes on challenging topics and issues, that others may view taboo, with grace, beauty, intelligence and class. She is truly a unique visionary of her generation, wise beyond her years, making people think outside-the-box of societal conformity.
Recently the talented teen sat down with Janelle Monáe for Teen Vogue's Volume III: Icon's Issue and together they explored everything from sisterhood to race relations and beyond.
Check out excerpts from the interview between the two below. To read the full interview, click here.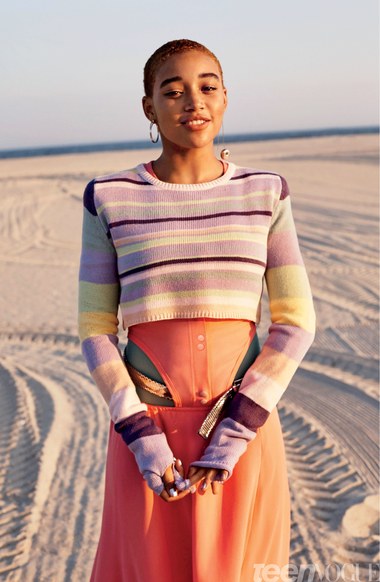 AS: Janelle frigging Monáe!?
JM: Hi, sweetie. You know I love, love, love you. First: pronouns! I want to make sure that I'm being respectful of how I'm referring to you. I know that the way we view ourselves and how we want to be addressed can change depending on where we are in life.
AS: I love that you asked me! Thank you. I have felt at times that she/her pronouns weren't entirely fitting, but I've never felt uncomfortable with them. It's more important for me to open up that conversation around pronouns and how gender itself is a construct that doesn't make much sense in our society.
JM: Got it. I remember seeing you for the first time in Colombiana, and then, like many people, I was drawn to your character in The Hunger Games as Rue. I'm a huge sci-fi nerd, so just seeing this little black girl in a dystopian world being a hero for an oppressed community, I was intrigued! The way you embodied this character felt like you were mature enough to understand how important she was to the movie but also how important the Rues all over the world are to our society.
AS: That's one of the best compliments that I've received! I remember we saw each other at the Tyler, the Creator show; we took a picture with Solange. You were wearing a jacket that said "black girl magic" on it, and I flipped out.
JM: Me, too! I was like, I am right between you and Solange, two people who are the epitome of black girl magic! I saw you later on, and you had just shot Everything, Everything, which, by the way, you are incredible in. The original story was written by a black woman [NicolaYoon], and your director [Stella Meghie] is also a black woman. What was going through your mind as you were considering the role?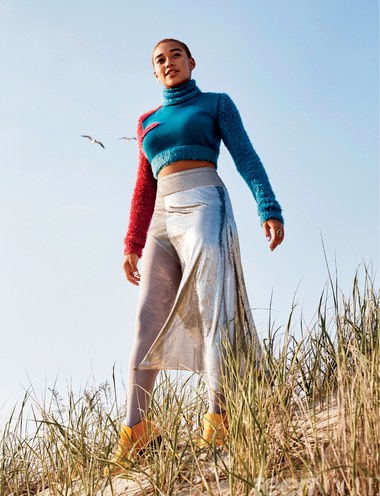 AS: I kind of wrote it off initially because I figured it was one of those instances where I was receiving a script for a YA romance project that was intended for a white actress. I thought maybe they'd float the idea of casting it in a more diverse manner but that ultimately it wouldn't end up going that direction, because that's happened to me a lot. Then I realized that this project was based on a book written by a black woman and that the casting was intentionally diverse. I'd never seen a story like this made for an interracial couple. I'm not someone who generally has a pop or mainstream sensibility, but I see the incredible power of infiltrating these larger movies that show a lot of people who we are and how diverse and beautiful our community is. I thought it would be really powerful to see a black girl [lead] character like Maddy who is joyous and creative and dimensional specifically marketed to teenagers and young adults. We don't always get to see black women carrying that energy. That's one of the reasons why I respect and love you so much—because I feel like you perpetuate such whimsy and joy!
JM: Aw! Well, whenever I see you doing your thing, I feel like we're from the same tribe because I take a similar approach when I'm choosing projects. With the roles of Teresa in Moonlight and Ms. Mary Jackson in Hidden Figures, they're two women of color from totally different backgrounds and eras—from the hood to NASA, these black women were the backbones of their communities. I thought it was so important to let the rest of the world know that we're not monolithic. And with Hidden Figures in particular, I was so proud to be a part of exposing that if it were not for these women, we would not have gone to space. That's American history! Black history is part of American history, and it should be treated as such.